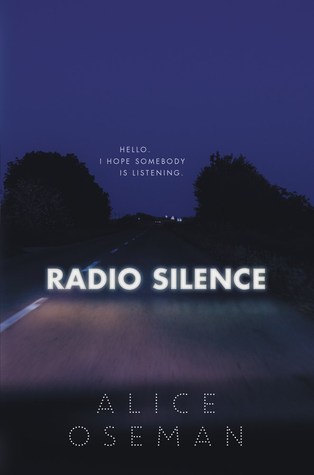 Published: February 25th 2016 by Harper Collins
Source: Local Library
Format: Hardcover
Genre: Young Adult, Contemporary, LGBTQ+
Synopsis: You probably think that Aled Last and I are going to fall in love or something. Since he is a boy and I am a girl.
I just wanted to say—we don't.
Frances Janvier spends most of her time studying. When she's not studying, she's up in her room making fan art for her favorite podcast, Universe City.
Everyone knows Aled Last as that quiet boy who gets straight As. But no one knows he's the creator of Universe City, who goes by the name Radio Silence.
When Frances gets a message from Radio Silence asking if she'll collaborate with him, everything changes. Frances and Aled spend an entire summer working together and becoming best friends. They get each other when no one else does.
But when Aled's identity as Radio Silence is revealed, Frances fears that the future of Universe City—and their friendship—is at risk. Aled helped her find her voice. Without him, will she have the courage to show the world who she really is? Or will she be met with radio silence?
Spoiler Free Review:
My main incentive in reading this book is I heard there's a character who identifies in the asexual spectrum as well as a friendship (nothing more) between a boy and girl. I did expect something remotely different from what I actually read but nonetheless, Radio Silence ending up being a very enjoyable read.
This book does take place in the U.K. and includes British lingo which is different than what this dumb American normally reads. The main character Frances Janvier is also half Ethiopian and half white as well as bisexual so A+ on representation, though I don't believe all of it is own voices. The story line revolves around a famous podcast and the relationship between Aled and Frances. Despite the unique synopsis, it's definitely far too long for what actually occurs in the novel. Many of the scenes were filler and could have easily been taken out or replaced.
However, I love how the podcast has an agender character and there are discussions on gender neutrality. It was refreshing to see two characters talk about clothes without placing gender stereotypes. Additionally, there's an inclusion on the toxicity of fandom culture. Frances is a fan artist (which is also really cool) and there's experiences of backlash and hate from the Universe City fandom. I've never read a book that depicts the bullying and invasions of privacy that take place in fandoms so it was refreshing to read about. There's also characters who attend university which is rare in YA and much appreciated since I hate high school students (says the highschooler).
There is asexual representation, however it's not a main focus of the story which normally I would love how ace rep. is weaved into the story. But I was expecting a little more from the asexual representation, not just a small mention of it. Overall, Radio Silence ended up being an entertaining and addicting story, though it did leave more to be desired. But if you're looking for a diverse YA contemporary, I would definitely recommend reading Radio Silence. 
Rating: 3/5