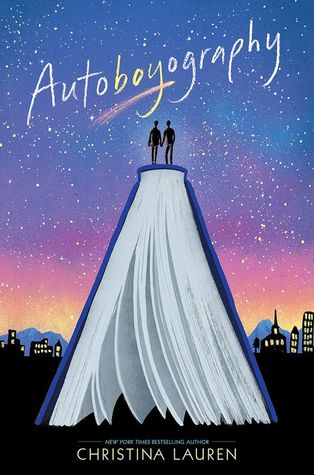 Published: September 12th 2017 by Simon & Schuster Books for Young Readers
Source: Local Library
Format: Hardcover
Genre: Young Adult, Contemporary, LGBTQ+, Romance
Synopsis: Three years ago, Tanner Scott's family relocated from California to Utah, a move that nudged the bisexual teen temporarily back into the closet. Now, with one semester of high school to go, and no obstacles between him and out-of-state college freedom, Tanner plans to coast through his remaining classes and clear out of Utah.
But when his best friend Autumn dares him to take Provo High's prestigious Seminar—where honor roll students diligently toil to draft a book in a semester—Tanner can't resist going against his better judgment and having a go, if only to prove to Autumn how silly the whole thing is. Writing a book in four months sounds simple. Four months is an eternity.
It turns out, Tanner is only partly right: four months is a long time. After all, it takes only one second for him to notice Sebastian Brother, the Mormon prodigy who sold his own Seminar novel the year before and who now mentors the class. And it takes less than a month for Tanner to fall completely in love with him.
Spoiler Free Review:
What I was expecting was a fluffy, LGBTQ+ contemporary with relatable woes about the writing process. And while I did get all of those, this book has so much more depth than what I was expecting. Mormonism is almost always viewed as a savage cult in the media and it was interesting to get a sense of what it really means to be Mormon and growing up in a religious and conservative family. Although I'm not Mormon myself, I did grow up in a religious and strictly conservative Muslim family so some aspects of Sebastian Brother's story were painfully relatable. For that and so much more, Autoboyagraphy is a special novel to me.
Tanner is your typical white boy in high-school. He's fairly good in school, set for college and has a "hermione granger-like" best friend. But he's bisexual and his parents actually play a role in his life which is incredibly rare in YA. Absent parents is one of the most infuriating tropes in YA and it was refreshing to see parents actually know everything going on in their child's life. It was also interesting seeing the religious dynamics in Tanner's and Sebatian's family. Tanner's family is liberal, his father grew up in a Jewish family and his mother in a conservative and homophobic Mormon family. Personally, I would love a spin-off or short story on Tanner's parents' love story. Religion does often come between marriage and relationships so it was interesting to see being brought up in young adult fiction.
What also sets this story apart is that we actually follow a character who's a college commuter and doesn't dorm. Shocker, indeed. YA rarely has college-aged characters so it was nice to have Sebastian be a college student who's not some creeper 6 years older than Tanner. I did want more of Tanner's writing process and it wasn't as apart of the story as I would have liked. Nonetheless, the entire premise and idea of two people meeting in a writing class still lived up to my expectations.
Overall, Autoboyagraphy ended up being a pleasant surprise. I wasn't expecting to hate this book, but I did not expect to connect with it like I did. Religion is never brought up in young adult fiction and it's always been something I've grown up around and to be able to see religion and sexual orientation challenged was a refreshing concept. This story is definitely underrated, so if you're looking for a unique contemporary with equal amounts of fluff and an insight into Mormonism, I would recommend Autoboyagraphy. 
Rating: 4/5