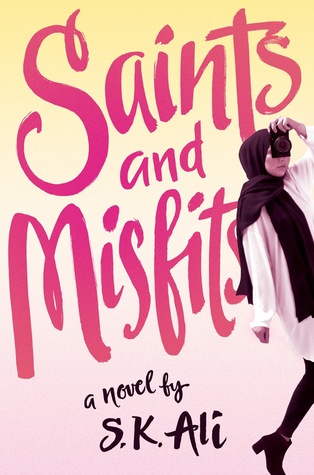 Published: June 13th 2017 by Salaam Reads / Simon & Schuster Books for Young Readers
Source: Local Library
Format: Hardcover
Genre: Young Adult, Contemporary, Muslim MC
Synopsis: Saints and Misfits is an unforgettable debut novel that feels like a modern day My So-Called Life…starring a Muslim teen.
There are three kinds of people in my world:
1. Saints, those special people moving the world forward. Sometimes you glaze over them. Or, at least, I do. They're in your face so much, you can't see them, like how you can't see your nose.
2. Misfits, people who don't belong. Like me—the way I don't fit into Dad's brand-new family or in the leftover one composed of Mom and my older brother, Mama's-Boy-Muhammad.
Also, there's Jeremy and me. Misfits. Because although, alliteratively speaking, Janna and Jeremy sound good together, we don't go together. Same planet, different worlds.
But sometimes worlds collide and beautiful things happen, right?
3. Monsters. Well, monsters wearing saint masks, like in Flannery O'Connor's stories.
Like the monster at my mosque.
People think he's holy, untouchable, but nobody has seen under the mask.
Except me.
Trigger warning for descriptions of attempted rape. 
Spoiler Free Review:
When it comes to reading about a book with a Muslim, hijabi main character, I'm both excited to read a book about someone like me and very skeptical because correct representation is always important to me. Saints and Misfits is definitely the most accurate representation I've found in a fictional story. The author is easily able to capture the life of a Muslim teen, someone who attends mosque events, wears a hijab and experiences the typical teenage dilemmas. Though I did have a few issues with the book they're more my personal issues rather than the story as a whole.
One of the most important things that this book captured is that Muslims do live ordinary lives.  Janna had hobbies, she liked photography and the author Flannery O'Connor. It felt like your quintessential, YA coming-of-age story which in this case isn't necessarily a bad thing. The book was definitely targeted towards Non-Muslims and Muslims alike, but the incorporation of Islam never felt forced. Janna being Muslim fit in effortlessly just like how it is in most Muslim's lives.
Janna is half Egyptian and half Indian, which was nice to see since in most Muslim rep. the character is always Middle Eastern (South Asian Muslims exist). Her experiences as a hijabi and growing up in a Muslim family were relatable and the experiences felt very realistic. However, I couldn't seem to connect with the main character (Janna and I are actually the same age) which unfortunately did affect my enjoyment of the story. Again, this is more of a personal issue, but, I felt like their was a bit of generalization with the portrayal of teenagers in this book. I am aware that all teenagers are petty, make stupid decisions and are melodramatic. But in particular, I didn't really  like how both of Janna's friends were both boy crazy. It rubbed me the wrong way since so many girls who aren't even interested in boys or in anyone. In my opinion, it would be nice to not see a conventional depictions of a teenager. Her friends felt recycled caricatures and people I've read about before. I also wish there was someone to there who told Janna she didn't need a boyfriend.
Granted, I've never truly experienced a romantic crush before and I don't necessarily understand the teenager emotions of "falling for someone."  In fact, I have Muslim friends (girls) and they've had crushes on boys. But it was more or less admiration from a distance, they never actively sought out a relationship since it is haram. I felt like Janna's crush was a little too childish and petty for me. I don't know if it's just me, but this consistently bothered me throughout the story. (Also, did it have to be a conventionally attractive, generic white boy?) In all honesty, I wish that the whole crush wasn't included in the story, I think there's enough books where a Muslim girl has a crush on a Non-Muslim white boy or really any boy.
On a more positive note, I loved the family dynamic, specifically the relationship Janna had with her brother. It was genuine and honest and felt like it was told from the author's first hand experience. The Muslim dating experience was perfect. The awkwardness and third wheeling was spot on. I always like to compare Muslim dating to Pacific Rim, you meet someone and see if you're drift compatible which is basically how it went.
Janna's mom was really supportive and encouraging which is refreshing to me since there have always depictions of close minded, traditional Muslim parents. Additionally, Janna's involvement in her masjid, her uncle being a supportive uncle and imam were showed a positive atmosphere at a masjid which is important. There's so much more to it than people are aware of and I was really glad to see it.
Another thing I really appreciated was the "monster" who attempted to rape Janna was considered a saint at the masjid. I know from experience, a young hafiz is always put up on a pedestal and seen as the perfect Muslim, a person who can't do any wrong and who is completely devoted to Islam. I'm not saying that they're all terrible and deceiving, just that not all of them are perfect or the saints that appear to be. It's a topic that's pretty taboo in the Muslim community, that a potential rapist may exist inside the community itself. I really appreciated that S.K. Ali was able to bring the topic up in the book. However, I would have liked to see more of an insight into it instead of a rushed ending.
Overall, Saints and Misfits was definitely an important novel for me, I never see myself represented in media and reading this book was an experience. Although I couldn't fully connect with the main character and some aspects this story, I still have an appreciation to this story and the author for finally writing about a Muslim character. The novel wasn't perfect in my eyes, but it's definitely a story I will remember.
Rating: 3.75/5