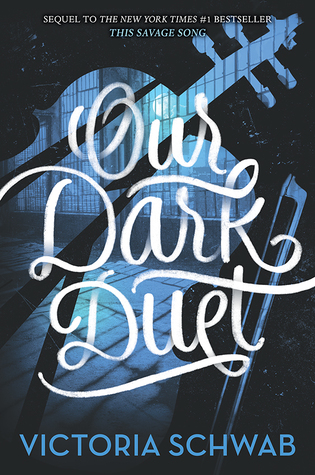 Published: June 13th 2017 by Greenwillow Books
Series: Monsters of Verity #1
Source: Local Library
Format: Hardcover
Genre: Young Adult, Fantasy, Paranormal, Dystopia
Synopsis: THE WORLD IS BREAKING. AND SO ARE THEY.
KATE HARKER isn't afraid of monsters. She hunts them. And she's good at it.
AUGUST FLYNN once yearned to be human. He has a part to play. And he will play it, no matter the cost.
THE WAR HAS BEGUN.
THE MONSTERS ARE WINNING.
Kate will have to return to Verity. August will have to let her back in. And a new monster is waiting—one that feeds on chaos and brings out its victims' inner demons.
Which will be harder to conquer: the monsters they face, or the monsters within?
Read review for This Savage Song here. 
Spoiler Free Review:
Our Dark Duet took a turn from the first book as the story became even more darker. Schwab dove into the morale of the characters and yet again focused on the fine line between good and evil. This wasn't my favorite Victoria Schwab book, but it was definitely one of her best written novels yet. If you look back on all of Schwab's previous works, you can see a massive improvement in her writing. Our Dark Duet really embodied the tone of the story through the addition of poems. The poems were weaved into the story and surprisingly, they weren't cryptic. As much as I love poetry, when they're added into a book written in prose, it's usually obscure. Not only did the poems make sense, but it added to the story.
I didn't actually remember much from This Savage Song since I read it exactly a year ago. I actually had to read a recap which goes to show how little I remembered. As for the story line, it revolves around a new monster that is neither a Malchai, Corsai or Sunai. It was especially interesting because the monster didn't take a specific form. I'll leave it at that and have you figure it out for yourself. 😉
Schwab definitely delves deeper into the psyche of each of the characters. What makes this story so intriguing that it appears that the monsters are the villains. In reality, the monsters are a reflection of human actions, a concept I rarely ever see in YA. August and Kate are both morally grey characters and I really don't find any of them to be lovable. In dystopia/paranormal, there's always the  comical relief or a romantic subplot -_-, there to keep the story more engaging and make light of a conflict. What liked about Our Dark Duet was that it was a realistic portrayal, things are bleak until the very end. Did August and Kate feel very bland to me? Absolutely. But when you're in the midst of a broken city and monsters parading around killing everyone, there isn't much room for light and funny moments.
There is a new character introduced, Soro who is a Sunai and gender-less, they go by they/them pronouns. They were a really interesting character and I wished there was more about them. Soro was actually pretty similar to Leo, their views on sinners and thier belief  in how all of them deserved to die. The only difference to Soro was that their was more of a open mindedness to their character that wasn't present in Leo. I would love to read a spinoff or short story from Soro's perspective, since they were such an intriguing Sunai.
The pacing definitely varied and I did find myself bored with a lot of what was happening. The book was a little too long and a lot of parts dragged which is why it took me so long to finish. Additionally, the nature of Kate and August's relationship was strange, to say the least. It didn't exactly stay a solid friendship is all I'll say. Highlight for spoiler: The scene where they kissed was really weird. Did they have any romantic feelings towards each other or was it just an intense feeling of friendship? I really don't know but it wasn't really addressed and I wanted some closure. I would have preferred for them to stay friends. Obviously, Kate died which I actually thought was very fitting. Reminded me of the ending of Allegiant, but Schwab executed it far better than V. Roth. 
Overall, Our Dark Duet had a very fitting conclusion to the series. Out of all of the dystopian I've read, the Monsters of Verity duology definitely stands out from the rest. Victoria Schwab is an exceptional and progressive author so if you haven't read her books yet, I would highly recommend you do. 🙂
Rating: 3.75/5