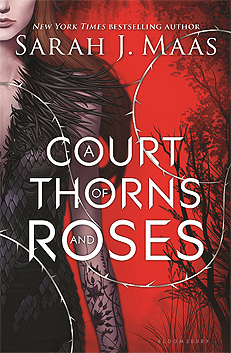 Published: May 5th 2015 by Bloomsbury USA Childrens
Series: A Court of Thorns and Roses #1
Source: Local Library
Format: Hardcover
Genre: New Adult, Fantasy, Retellings, Romance
Synopsis: Feyre's survival rests upon her ability to hunt and kill – the forest where she lives is a cold, bleak place in the long winter months. So when she spots a deer in the forest being pursued by a wolf, she cannot resist fighting it for the flesh. But to do so, she must kill the predator and killing something so precious comes at a price …
Dragged to a magical kingdom for the murder of a faerie, Feyre discovers that her captor, his face obscured by a jewelled mask, is hiding far more than his piercing green eyes would suggest. Feyre's presence at the court is closely guarded, and as she begins to learn why, her feelings for him turn from hostility to passion and the faerie lands become an even more dangerous place. Feyre must fight to break an ancient curse, or she will lose him forever.
Quick sidenote: I would reccomend watching Marines at mynameismarines review on ACOTAR, it's very well said and far more eloquent than I could ever be. Link is here.
Review:
This review had vague spoilers, proceed with caution. 
So if you couldn't tell, I did not like this book. What a surprise. Going into this book, I knew that I wasn't going to like it, it really isn't the type of story I'm interested in. But since there is so much hype surrounding this book, I went into it as somewhat of a joke, seeing how long I could last. I finished the entirety of this book and it took forever by the way. I know Sarah J. Maas' books are not for me but I can still see why so many people like it. But the result is that this has to be one of the worst books I've ever read. And I don't usually say that about books. In the end, I thought this book was so bad and cringe worthy, it's honestly pretty laughable.
The writing style of a book normally doesn't bother me, but this one drove me crazy. I have read the first two books in her Throne of Glass series and didn't have any issues with the writing, but at the time I wasn't as critical of a reader as I am now. The ellipses was what drove the nail into the coffin. Why are there so many? How does it add to the story? "So much food– such salvation." "You aren't what I expected– for a human." "The drums turned faster– louder." I could literally turn to any page and point out a useless ellipse on the page. I mean, how does the audio book narrator even narrate this book? Do they just pause at an ellipse? That would sound like the slowest audio book ever. I'm actually tempted to listen to parts of the audio book just to see if it's true. This book is filled with useless pauses and most of them don't even make any sense at all.
Besides the ellipses, Sarah J. Maas writes the most conventional, cheesiest and cringe worthy lines ever. Her books are filled with the classic YA tropes, describing every single person's skin color as tan or pale (no other skin color exists, apparently), having stupidly long descriptions of eyes (he can't just have green eyes, he must have smoldering green eyes) and apparently every single character has flawless skin and is a Greek god/goddess.
The plot of this book was flimsy and predictable. In fact, nothing substantial happens for over half of the book. Majority of the action and climax all occur at the very end. Not to mention, I found the challenge or riddle given to Feyre to be a cheap cop-out. It was so blatantly obvious and cliche. The Beauty and the Beast elements was just meh and I honestly didn't care much for it. I don't have much else to say except that the book is not worth reading for the plot or much of anything for that matter.
Feyre is a huntress and while reading the first half of the book, all I could think is Katniss Everdeen. The only difference is Katniss has far more common sense. A successful huntress should be clever, while Feyre was a bumbling mess. Even with her immediate distrust of Tamlin and Lucian, it didn't take much to trust them and fall in love. But that is how most YA/NA fantasy work sadly.  Of course, I can't go without mentioning her sheer stupidity at not listening to what anyone tells her and going straight into danger. She reminds me of stupid white people in horror movies. Besides Feyre, there's Lucian who at first I thought was an utter asshole, but considering he has the most common sense, I'll give him the benefit of the doubt.
Tamlin is your quintessential, tortured soul–scratch that every character in here has a tragic backstory. (Oh look, I used an ellipse) He's brooding, territorial and utterly boring. SPOILERS: Not to mention, his abusive tendencies sprouted from the very first book. When ACOTAR first came out, not many people noticed Tamlin's abuse. The scene where he assaulted Feyre and she immediately forgave him was disgusting. In fact, when Tamlin apologizes, the actual apology isn't even shown in context. It was just brushed aside. Bottom line is that Tamlin was abusive, controlling and territorial towards Feyre from the very beginning.
Now comes Rhysand (Rhys), the character everyone seems to love but I hate. I kind of understand why, he's the more charming one and seems to care about Feyre. There were even instances where I though that Rhys did seem like the better one for Feyre. However, forcing Feyre to do sexual dances, forcibly kissing her and making misogynistic comments about having sex with Feyre made me hate him. How exactly is he better than Tamlin? He might have been doing this all for show, but the least he could have done was apologize. Part of Feyre's trauma and PTSD could come from how Rhysand treated her and that is not the foundation of a healthy relationship. I cannot condone his behavior nor the start of a relationship with Feyre.
Overall, A Court of Thorns and Roses has a horrible writing style, a flimsy plot, idiotic controlling characters and it was an all around bad reading experience. I did have fun writing this review, so I guess that counts for something. I would say I'm absolutely not interested in reading the next book, but I kind of am? Many people say it's a huge improvement and the series gets better. But I really just want to read it to analyze Tamlin's abuse, Feyre's PTSD and Rhys' behavior. If you couldn't tell, I'm somewhat of a masochistic reader. I hope you found some enjoyment out of reading this review. Please don't come at me for not liking this book, it is simply my opinion. 🙂
Rating: 1.25/5