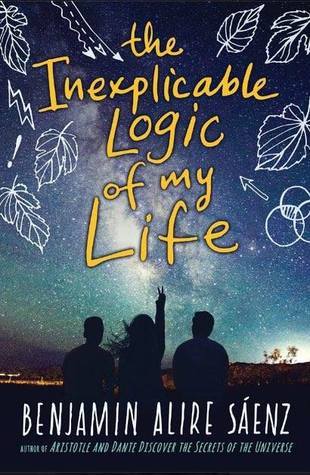 Published: March 7th 2017 by Clarion Books
Source: Local Library
Format: Hardcover
Page Count: 452
Genre: Young Adult, Contemporary, LGBTQ+, Family Dynamics
Synopsis: The first day of senior year:
Everything is about to change. Until this moment, Sal has always been certain of his place with his adoptive gay father and their loving Mexican-American family. But now his own history unexpectedly haunts him, and life-altering events force him and his best friend, Samantha, to confront issues of faith, loss, and grief.
Suddenly Sal is throwing punches, questioning everything, and discovering that he no longer knows who he really is—but if Sal's not who he thought he was, who is he?
Spoiler Free Review: 
If you've read Aristotle & Dante Discover the Secrets the Universe, you may know how beautiful Benjamin Alire Sáenz stories are. This story is no exception. I don't consider myself as someone who cries over books. I can fangirl and my heart can fell heavy and feels like it's being torn out, but I don't ever cry. I can only think of two other books that have made me cry, Black Beauty and The Honest Truth By Dan Gemeinhart. I think that if a book can have that much emotion out of me, it is definitely a good one.
Sáenz's writing is very similar to some free verse poetry I've read. It's very simplistic but has the same nostalgic, out of this world tone to it. It's a little difficult to explain, but his writing is one of my favorite types of styles I've read from. Here is a line from the book:
"Life had its seasons, and the season of letting go would always come, but there was something very beautiful in that, in the letting go. Leaves were always graceful as they floated away from the tree."
So like Ari & Dante, there isn't an actual substantial plot to this story. Really it's Salvador going through the trials and tribulations of life, along with his friends and family. The story is also very slow paced and there are chapters where nothing important happens. Normally, this would bother me but when it comes to Sáenz, I love his slow burning, character driven stories. There was also quite a bit of character deaths in this book, more than I expected. One of the most significant elements is the grief and moving past a loved ones death.
As always, the character truly made the story great. Sal was a mixture of both Ari and Dante. He had some of the anger that Ari had and a lot of the sweetness Dante has. His behavior was very naive and childlike, but it was actually more endearing than annoying. I mean the dude refused to say the f and b word. Which is relatable since I feel the same way. I didn't like Sam at first because she talked down to Sal and it seemed like she was manipulating him. Her character development was done really well so she did make up for her earlier behavior. Fito was a total complete Adam Parrish from The Raven Cycle. His backstory and personality was so similar to Adam's that I immediately loved him. I wonder if Benjamin Alire Sáenz read The Raven Cycle.
Hands down, my favorite character was Sal's dad, Vicente. Out of all the parental figures I've read about in books, he is by far my favorite. This is not an understatement, trust me. Vicente truly teaches Sal what it's like to be a man. There isn't any stereotypes on how hunting will "make you become a man." It's shown through compassion and kindness for your lived ones. He values Sal's opinion and actually holds meaningful conversations with him. He isn't just a father figure to Sal but to Sam and Fito as well. He's really a too pure for this world kind of guy and I can see why so many people were all over him. He truly is an amazing father and character.
My one issue with this book was the sexism and gender stereotypes that seemed to be pokes between the characters. There was a joke on how Sam didn't throw like a girl as well as others. There were also some homophobic statements and stereotypes on gay people. Those were added for character development and showing Sal's own ignorance. However, the sexism still rubbed me the wrong way and I really wish it wasn't included.
Overall, The Inexplicable Logic of My Life is another beautiful story written by an amazing author. I'm definitely looking forward to reading more by Benjamin Alire Sáenz.
Rating: 4/5