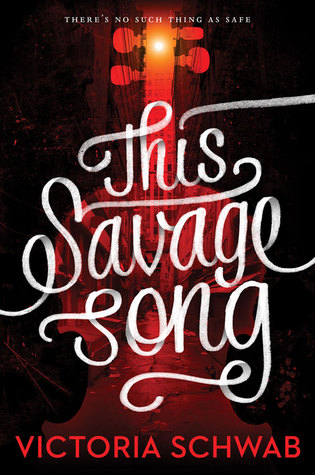 Published: July 5th 2016 by Greenwillow Books

Series: Monsters of Verity Duology #1

Source: Local Library

Genre: Young Adult, Fantasy, Paranormal, Monsters

Synopsis: There's no such thing as safe in a city at war, a city overrun with monsters. In this dark urban fantasy from author Victoria Schwab, a young woman and a young man must choose whether to become heroes or villains—and friends or enemies—with the future of their home at stake. The first of two books.

Kate Harker and August Flynn are the heirs to a divided city—a city where the violence has begun to breed actual monsters. All Kate wants is to be as ruthless as her father, who lets the monsters roam free and makes the humans pay for his protection. All August wants is to be human, as good-hearted as his own father, to play a bigger role in protecting the innocent—but he's one of the monsters. One who can steal a soul with a simple strain of music. When the chance arises to keep an eye on Kate, who's just been kicked out of her sixth boarding school and returned home, August jumps at it. But Kate discovers August's secret, and after a failed assassination attempt the pair must flee for their lives. 
Spoiler Free Review: 
If you've been on this blog for a while, you would know I'm a huge fan of Victoria/V.E. Schwab. She's one of my favorite authors and I've read nearly all of her books. Of course, when she had a new young adult release that has NO ROMANCE, I was extremely excited. 

The writing in this book easily fits the tone of the story. Haunting and lyrical, her writing is magnificent. Schwab is a very talented writer, whether it's young adult or adult. I mentioned in previous reviews that I found her writing for The Archived trilogy to be pretty simplistic, but I really loved the haunting and lyrical writing in This Savage Song.

The world was the most interesting factor to me. That idea that violence breeds monsters is very unique and unlike anything I've heard of. The whole concept is pretty reflective since it's the human acts that creates monsters. The types of monsters was another fascinating element. There is the Corsai, Malchai and Sunai. I didn't particularly like the Corsai or the Machai, mostly because they were seen as mostly evil creatures. I found a Sunai to be the most interesting, the whole concept of a song stealing your soul seemed at once creepy and super cool. In the end, it really didn't make a difference, because the whole point was to prove that these monsters are monstrous because of the humans. They are the true villains.

As for the plot, it was pretty interesting and I flew through most of it. There were a few unpredictable moments, however, for the most part I knew where the storyline was headed. I don't know if it was because I'm a good guesser or if it was pretty cliche. It didn't take away much of the enjoyment so I wouldn't worry too much about an underdeveloped plot. I also liked how Schwab wasn't hesitant to kill of any of her characters. There were some pretty gritty scenes. The city she created wasn't sugarcoated, it was cutthroat and violent just like it was described. 

The two main characters is Kate Harker and August Flynn. Kate is the monstrous human, bad girl and ultimately always getting into trouble. Personally, I don't particularly like rich bad girls or boys for that matter because they're clearly doing it for attention. So I didn't really like Kate as much as August. On the other hand, August was the sweet little monster who wished to be human. I did enjoy August's chapters and I've noticed I enjoy Victoria Schwab's male characters a lot more and not for the obvious reason but more so I happen to like their personality a lot more. Despite my how I felt about Kate, I loved the friendship developed between her and August. What I was most looking forward to was the friendship and not the romance between the two. Friendships is so important and often time in young adult literature, it's romanticized. A boy and a girl can be just friends. Apart from the world, the friendship was one of my favorite aspects. The friendship was proof that monsters and humans can coexist in peace.

Overall, I really enjoyed this story. It had a unique concept, a fleshed out world, interesting characters and was very entertaining. I'm interested to see where the story is headed.
Rating: 4/5