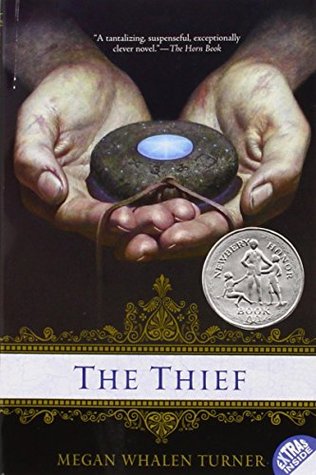 Published: October 31st 1996 by Greenwillow Books

Series: The Queen's Thief #1

Source: Local Library

Genre: Young Adult, Fantasy, Adventure

Synopsis: The king's scholar, the magus, believes he knows the site of an ancient treasure. To attain it for his king, he needs a skillful thief, and he selects Gen from the king's prison. The magus is interested only in the thief's abilities. 

What Gen is interested in is anyone's guess. Their journey toward the treasure is both dangerous and difficult, lightened only imperceptibly by the tales they tell of the old gods and goddesses. 
I've had this book on my radar for a while since I heard of it from PeruseProject on Booktube. It seemed like a fun fantasy filled story about a sarcastic thief. Which is exactly what it was along with so much more adventure.

The writing is quite simplistic and forthright. There wasn't any flowery, over the top descriptions or figurative language. I've been reading quite a few books with lyrical writing, so to read a book with simple prose was refreshing. The narrator is Gen and it's told in first person so you really do get an insight into his snarky remarks. 😉

The world seemed to be your standard fantasy setting. Several kingdoms, kings and queens, marriage alliances, you get the idea. I did find it pretty cool that the landscapes were inspired by Greece as well as some Greece's history. The pacing did vary, however. It did get very slow and boring, but it eventually sped up towards the end.

As for the plot, it seemed simple enough, a thief is taken out of prison to help find a hidden treasure. However, there was a pretty unexpected plot twist. I'm glad I didn't peek at the ending (like I always do). The twist took me by surprise but I'm pretty satisfied with the outcome of events. 

As for the characters, there's the main character, Gen. He's in every way snarky and hilarious. He also complains a ton and I can see why the magus hated him in the beginning. Gen reminds me of a Flynn Rider type. There weren't many side characters, I really liked Sophos and Pol and even came to like the magus.

Overall, this was a very enjoyable adventure story. If you liked The False Prince By Jennifer A. Nielsen, I would recommend giving The Thief a shot or vice versa. I'm genuinely interested in what will happen next so hopefully I'll get around to the sequel. 
Rating: 3/5