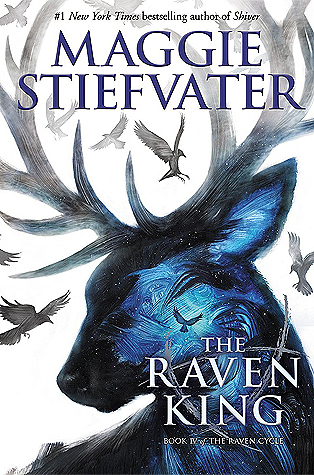 Published: April 26th 2016 by Scholastic Press

Source: Overdrive Ebook & Audiobook Library

Format: Ebook & Audiobook

Page Count: 439

Genre: Young Adult, Magical Realism, Paranormal

Synopsis: Nothing living is safe. Nothing dead is to be trusted.

For years, Gansey has been on a quest to find a lost king. One by one, he's drawn others into this quest: Ronan, who steals from dreams; Adam, whose life is no longer his own; Noah, whose life is no longer a lie; and Blue, who loves Gansey… and is certain she is destined to kill him.
Now the endgame has begun. Dreams and nightmares are converging. Love and loss are inseparable. And the quest refuses to be pinned to a path. 
Read review for Blue Lily, Lily Blue here.
WARNING: There will be spoilers, proceed with caution.
Spoiler-Filled Review: 
So after many months of contemplating, I'm finally writing this review. If you've read my reviews for the previous books, my reviews were very positive, this one may be a little more on the negative side. Over these past few months, my perspective on this series has changed a bit. I've noticed a lot more of the things that were problematic. I had a lot of issues with The Raven King and it's definitely  my least favorite in the series.  

The plot felt very overwhelming in this book. There was so much going and there were also subplots and new characters being introduced. I think Maggie Stiefvater squeezed too much into this last book. It didn't feel gradual and felt very forced. I didn't like how some characters were introduced and there wasn't much development or backstory on them either. I'll admit, I didn't really pay much attention to a few of the other parts of the plot, such as the Laumonier/Piper aspect. They didn't really interest me and I was mostly interested in the Glendower plot.  

Also, I hated Aurora's death, it was completely unnecessary. She deserved so much better and it breaks my heart that Declan never got to say goodbye.  However, I did like Glendower story ended. The fact that Glendower was dead this entire time was a little shocking but it makes complete sense. Without the Glendower quest, Gansey wouldn't have met any of them. Adam may still be living with his parents, Ronan would still be hateful and self loathing, Blue wouldn't have stepped out of her comfort zone. The whole quest was really as self discovery journey for all of them, separately and together. 
Characters:
Like I've mentioned before, Gansey is not my favorite character. But I have come to appreciate his loyalty and kindness to his friends. I would love to have a friend like Gansey. He still has his classist, offensive remarks and I still wish that there was more development with his condescending, rich white boy attitude. His character arc was done pretty well, he let go of his egotistical attitude and realized that he is great for who he is and his unwavering loyalty to his friends, not by being the one who found Glendower. 

As for Blue and Gansey as a couple, I really can't get behind it. I found them to be pretty boring and a little forced. To be completely honest, I never liked, "if you kiss your true love, he'll die." Personally, I think that was added just so Gansey could die towards the end. I liked Bluesey better as friends and them as a couple is just blah. 

Out of all of the characters, Adam Parrish had the best character arc. He had the best character development. He rose above his parent's abuse and self-pity and managed to support himself and graduate from Aglionboy. One of my favorite scenes is when he went to his parent's trailer in the epilogue. It really showed how much Adam has grown and how he's more than just an abused child. Adam Parrish is the strongest character in this entire series. I will fight whoever says otherwise (just kidding). As for Ronan Lynch, I think he did have character development and he is a very interesting character. I love his interactions with Blue, I want more bronan. 

Also, Pynch is beautiful. Personally, I think Pynch was written much better than Bluesey. But I don't think Maggie Stiefvater wrote the two pairings equally at all. It seemed that there were hints of Bluesey from the beginning. With Adam and Ronan, their relationship was written through metaphors and flower writing, which is fine, but it made things very vague. On top of that, I didn't like how sexuality was portrayed in the series. It's pretty much implied that Ronan is gay and never clearly stated. In addition, Adam's sexuality is never clearly stated either. I get that not everyone wants to label themselves which is completely fine. But considering Adam is very logical thinking, he is definitely the kind of person to label himself. 

In addition, there were some comments that Ronan and Adam made specifically towards Henry Cheng that I hated. 
"Principles? Henry Cheng's principles are all about getting larger font in the school newsletter," Ronan said. He did a vaguely offensive version of Henry's voice: "Serif? Sans serif? More bold, less italics."
Blue saw Adam both smirk and turn his face away in a hurry so Gansey wouldn't see, but it was too late.
"Et tu, Brute?" Gansey asked Adam. "Disappointing." 
"I didn't say anything." Adam replied. 
This shows Ronan mocking Henry, who's second language is English. No one, not even Blue called him out on it either. On top of that, this was apparently an inside joke for Ronan and Adam. What made it worse that even worse was even if Adam didn't say anything, he smirked, egging Ronan on which is just as worse. 

What really pissed me off was this specific part: 
Adam and Ronan made puerile jokes at Henry's expense (He's half Chinese? Which half?) and sniggered clannishly. Blue called them on it ("Jealous, much?"): Gansey told them to put aside their preconceptions and think about him. 
The fact that no one even calls these two idiots on their racist jokes pissed me off. This is clearly racist and especially offending to people who are biracial. It's like biracial people are not whole, half of two ethnicities. Maggie Stiefvater tries to justify herself and claims it was a correlation to the comment Ronan made on Neeve in The Raven Boys. But no matter how I look at it, these lines are straight up racist. What would have this justified it if someone had clearly told Adam and Ronan that what there saying is racist and offensive. I would have loved to see Henry putting them in their place. 
Speaking of Henry Cheng, I really enjoyed his character but not how he was introduced in the series. Henry Cheng barely had any development and him being apart of the Gangsey felt completely unnatural and forced. If he had been introduced earlier on, there would have been more development. It's true that there was no use to him, he really didn't contribute anything to the plot. He's also the token person of color, since every other character is white. I really don't think his character was done justice at all. 

Then there was Noah, my favorite raven boy(besides Adam). Noah's character was not done justice either. He was barely in The Raven King and when he did appear, he nearly scratched Blue's eye out and then quietly slid from time. I would have loved to see Noah and Henry interactions. They would have gotten along so well. I wanted to see more of Adam and Noah (Czarrish forever). He was such an important part of the series and his ending was not done justice. Noah Czerny deserved better. 

Overall, The Raven Cycle  was still a really great series, unlike anything I've ever read before. Though after learning more about the problematic aspects to the series, it's not on my favorites list, for that reason. There were also a lot of unanswered questions and I wish they were explored more.  I still love all of the characters, their magic. Their quest. Their awfulness and strangeness. Despite my issues with the series, the story is very memorable and it was a delight to read about these characters. Also, I'm still looking forward to the Ronan Lynch trilogy and hopefully their will be some domesticated Adam and Ronan and Opal. 😉
Rating: 3.25/5