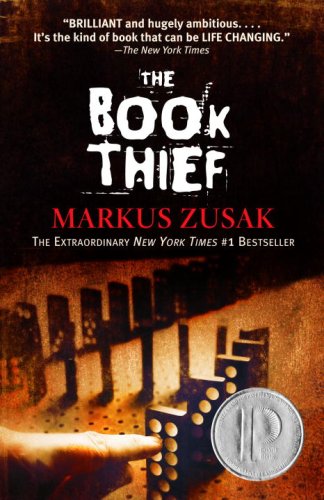 Published: September 18th 2007 by Alfred A. Knopf (first published 2005)

Source: School Book

Genre: Historical Fiction, World War II, Classic

Synopsis: It is 1939. Nazi Germany. The country is holding its breath. Death has never been busier, and will be busier still.
By her brother's graveside, Liesel's life is changed when she picks up a single object, partially hidden in the snow. It is The Gravedigger's Handbook, left behind there by accident, and it is her first act of book thievery. So begins a love affair with books and words, as Liesel, with the help of her accordian-playing foster father, learns to read. Soon she is stealing books from Nazi book-burnings, the mayor's wife's library, wherever there are books to be found.
But these are dangerous times. When Liesel's foster family hides a Jew in their basement, Liesel's world is both opened up, and closed down.
In superbly crafted writing that burns with intensity, award-winning author Markus Zusak has given us one of the most enduring stories of our time.
Add to Goodreads. 

Spoiler Free Review:
Reading The Book Thief can be deemed as difficult to start, mostly on account of the raves and tears that so many have expressed. I was pretty apprehensive going into this book, the ending had been spoiled for me, but I decided to give it a try anyway. The Book Thief surprised me, inspired me, and opened my eyes to a part of a history that isn't discussed nearly enough and is just as important. You will be introduced to a thought provoking and impactful story that will leave you reflecting for days on end.
The most interesting aspect of this book, I would have to say is the writing style. The narrator is Death. Some would think of it as a spirit, but Death truly felt like a human, almost. It was surprisingly witty and it was interesting to read from a perspective who saw everything.
The setting takes place on Himmel Street in Germany. Initially, I thought that since it was a World War II novel, there would be a focus on the Holocaust. The Jewish who were killed and tortured was a significant and terrible time in history. But what isn't discussed is the Germans who lived in the midst of World War II. They were regular civilians, but were oppressed as well. This book focuses on the German civilians who weren't Jewish, but were in poverty and them trying to survive as well.
The main character is Liesel Meminger who is adopted by Rosa and Hans Hubermann. I really loved her character and her personality. Despite her being very naive, she was mature for her age and very headstrong. The relationships she formed with each of the characters were very exceptional. Rosa seemed like a grumpy and mean woman, but behind the curse words and glares, she has a big heart. The relationship Liesel had with Hans was incredibly sweet and powerful. Hans became my favorite character, his kindness and compassion outshined every other character. As for the other characters, I think it is for the reader to discover by themselves.
The ending of this book was what I most terrified of. I knew what was coming and I didn't want it to end. Despite the tragic ending, I found to be bittersweet. There was just enough hope to balance out the sadness.
All in all, I would highly recommend giving it a try. It may sound boring to you at first, but it's a classic that can possible change your perspective on life. 
Rating: 5/5