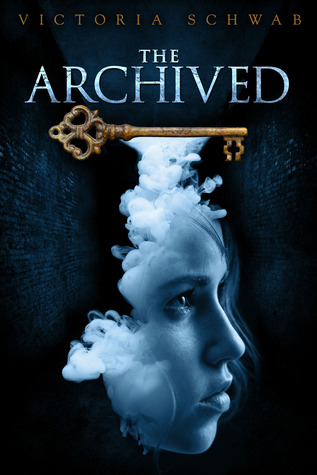 Published: January 22nd 2013 by Hyperion

Series: The Archived Trilogy #1

Source: Local Library

Genre: Young Adult, Fantasy, Paranormal, Mystery 

Synopsis: Imagine a place where the dead rest on shelves like books.
Each body has a story to tell, a life seen in pictures only Librarians can read. The dead are called Histories, and the vast realm in which they rest is the Archive.
Da first brought Mackenzie Bishop here four years ago, when she was twelve years old, frightened but determined to prove herself. Now Da is dead, and Mac has grown into what he once was: a ruthless Keeper, tasked with stopping often violent Histories from waking up and getting out. Because of her job, she lies to the people she loves, and she knows fear for what it is: a useful tool for staying alive.
Being a Keeper isn't just dangerous—it's a constant reminder of those Mac has lost, Da's death was hard enough, but now that her little brother is gone too, Mac starts to wonder about the boundary between living and dying, sleeping and waking. In the Archive, the dead must never be disturbed. And yet, someone is deliberately altering Histories, erasing essential chapters. Unless Mac can piece together what remains, the Archive itself may crumble and fall.
Spoiler Free Review:
Since it is the month of October, creepy books are a must. The Archived was certainly a very haunting read. I heard particularly good things about Victoria Schwab (V.E. Schwab) especially from booktuber, Jessethereader. Victoria Schwab most definitely has a very unique yet ominous writing style. I thoroughly found this to be a wonderful paranormal mystery that fit the season perfectly.
Mackenzie Bishop was the main female protagonist. She was strong willed and a decent main character. Frankly, I didn't see anything special about her. I did love the interactions she had with the other characters. She was much sadder than most main characters I've read  about before. I liked that the author included how much her brother's death impacted her. She saw him everywhere. Mac was always afraid that he would be forgotten and her grief was always with her throughout the book. The book was much more realistic and you really saw her improvement taking place.
Wesley Ayers was my favorite character. He was different than any other male side character. You could tell that he's been through a lot in his life. Despite this, he's very easygoing and friendly. He's a great friend to Mac and I enjoyed their interactions. I really wished there would be more of him. He reminds me of a lot my favorite characters in books and t.v. shows and I'm really hoping more from him in the next few books. 
The premise of the story was very confusing at first and took me a while to get into. I also had a hard time understanding The Archive and what exactly a Keeper's job was. The premise was very intriguing to learn about. It had a bit of a Miss Peregrine's Home for Peculiar Children vibe to it.  The Archived concept was very fascinating and I really wanted to know more about it. I didn't like any of the Librarians but I loved Roland and his red Chucks. He was a guardian to Mac after her Grandpa's death and even after all the trouble she had caused he still trusted her.
One downfall of this book was the "romance." I don't really consider it romance since it was more manipulation and escape. It was completely unnecessary to the plot. I did think the manipulation was needed in the story, but not the "romance."
Overall, besides that one issue I found this to be a very enjoyable read and it definitely sets the mood during the month of October.