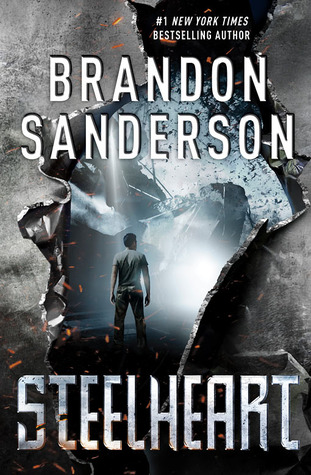 Published: September 23rd 2014 by Ember
Series: The Reckoners Trilogy #1
Source: Overdrive Ebook Library
Genre: Sci-fi, Action, Fantasy
Synopsis: Ten years ago, Calamity came. It was a burst in the sky that gave ordinary men and women extraordinary powers. The awed public started calling them Epics. But Epics are no friend of man. With incredible gifts came the desire to rule. And to rule man you must crush his wills.
Nobody fights the Epics…nobody but the Reckoners. A shadowy group of ordinary humans, they spend their lives studying Epics, finding their weaknesses, and then assassinating them.
And David wants in. He wants Steelheart – the Epic who is said to be invincible. The Epic who killed David's father. For years, like the Reckoners, David's been studying, and planning – and he has something they need. Not an object, but an experience.
He's seen Steelheart bleed. And he wants revenge.  

Spoiler Free Review:
Brandon Sanderson truly impressed me with Steelheart. I always love to read anti-hero books. I knew as soon as I read the prologue I was going to love this book. Books with super powers have always intrigued just as this one did. The characters were complex and flawed, the plot was full of so many twists. 
David Charleston was the main character in the story. He was intelligent and brave but at the same time was an awkward teenager. Usually revenge books can irritate me especially when the main character and focus solely on their vengeance. Surprisingly, I was satisfied with David's character. He was obsessed with the Epics and has been studying them for years. At the same time, I found myself laughing at his awkwardness and his terrible metaphors. Although, David wasn't an actual hero, he wasn't exactly an antagonist. He had a heart and he only seemed to hate Epics.
David admired the Reckoners, the rebel team that killed Epics. I wouldn't exactly call them vigilantes. They were killing people which is not considered heroic to me. I was impressed with the Reckoners teamwork. Each of them were intelligent and brave. They were all very mysterious and I really wanted to know more about them. I wasn't a huge fan of Prof in the beginning. There was just something about him. He was brooding and dark. To be honest, he is very similar to David and they both respect each other. Abraham was one my favorite members. He reminded me of Kaldur from the Young Justice television show. I think he would make a great leader. Cody was definitely a comical relief in the story. He was strange but I found his remarks hilarious. 
Megan was the only one not on board with David killing Steelheart. Some reviewers didn't like her in Steelheart saying she was a brat. Personally, I really enjoyed her character. She was harsh to David and seemed to hate him. I guess her "dislike" for him were her insecurities. She was still headstrong and brilliant and I loved her reckless driving. The one thing that got on my nerves was David's crush on Megan. It wasn't very relevant to the story and I did find his awkwardness when talking to Megan amusing. 
SPOILER WARNING! 
SKIP TO LAST PARAGRAPH IF YOU HAVE NOT READ STEELHEART.
The Epics were such fascinating meta humans. They were seen as ruthless creatures that essentially dominated the regular humans. Yet they had their weaknesses which made them completely vulnerable. I found it interesting that in a way, their weaknesses were connected to their passed life. Steelheart, especially seemed like a very complicated antagonist. He claimed to be powerful, destined to rule Newcago. Yet he rarely left his place or came to Newcago. His fear of getting killed or destroyed triggered his weakness. I was pleasantly surprised when he killed himself. I didn't expect him to die in the first book. I was glad he died but at the same time I wish we learned more about him. 
The biggest plot twist was Megan's betrayal. When Megan was thought to be dead, I couldn't believe it. She was too much of a strong, interesting character. She was just starting to get interesting until she "died." Her reincarnation was surprising  but I was relived. Throughout the book, David says not to worry about Firefight and that he was an easy Epic to defeat. Megan being Firefight was such a big plot twist. I'm so glad that there is more to Megan complex character and I'm hoping to learn more about her in the next book. Prof, also ended up being an Epic but despised using his powers. He used it only when fighting Steelheart and when he saved David. I had already predicted him being an Epic, so it wasn't a huge surprise to me. 
END OF SPOILERS
To sum up Steelheart, it was a brilliant science fiction novel. The topic of humans who have superpowers itself is very intriguing. Brandon Sanderson has taken the idea of superpowers and added his own unique sci-fi twist. To readers who love science fiction and action and adventure as much as I do, read Steelheart. Hopefully, you will not regret it.
Rating: 4.99/5