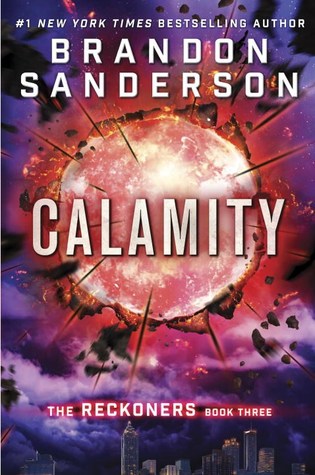 Published: February 16th 2016 by Delacorte Press

Series: Reckoner's Trilogy #3

Source: Ebook

Genre: Sci-fi, Dystopia, Post Apocalyptic, Superheroes

Synopsis: When Calamity lit up the sky, the Epics were born. David's fate has been tied to their villainy ever since that historic night. Steelheart killed his father. Firefight stole his heart. And now Regalia has turned his closest ally into a dangerous enemy.

David knew Prof's secret, and kept it even when the Reckoners' leader struggled to control the effects of his Epic powers. But facing Obliteration in Babilar was too much. Prof has now embraced his Epic destiny. He's disappeared into those murky shadows of menace Epics are infamous for the world over, and everyone knows there's no turning back…
But everyone is wrong. Redemption is possible for Epics—Megan proved it. They're not lost. Not completely. And David is just about crazy enough to face down the most powerful High Epic of all to get his friend back. Or die trying.
SPOILERS FOR FIRST TWO BOOKS.
Spoiler Free Review: 
The Reckoner's trilogy has made its way to my favorite sci-fi series. When it came to the last book, I was especially ecstatic to see how the whole series would wrap up. Sadly, I'm a little disappointed by this last book. There were the obvious wonderful aspects of the trilogy, like the characters, and the Epic's powers, as well as the humor (David's metaphors). However, things didn't quite add up in the end and it left me rather confused. 
To start on a positive note, most of Calamity was wonderful. Reading from David's perspective was entertaining, to say the least. The dude says the most stupidest, nerdiest, dorkiest things ever. Is that even possible? According to David, it is. For most of the story, the plot was very fast paced and I flew through the action scenes. Most of the storyline kept me on edge. The origin of an Epic's power was intriguing, especially with learning about each of their specific weaknesses. 
The other characters were their usual wonderful selves. I especially loved the humor and wit in this last book. Each and every one of the members of the team had something hilarious to contribute. My favorite part was of course David's horrible metaphors. He never ceases to have me snort and roll my eyes at his cringe worthy figurative language. "The sun peeked over the horizon like the head of a giant radioactive manatee." There was one I particularly loved though. "My Megan is a sunrise, always changing, but beautiful the entire time." 
Like I've mentioned, I was very confused by the ending like many readers were. The plot pretty much went everywhere and it was hard to keep up. There were plot twists and then somehow things wrapped up and ended. I think Brandon Sanderson should have considered clarifying the ending. Things didn't really make much sense and it seemed rushed. Calamity was the main antagonist of the whole trilogy and he was rarely in the story. He just happened to appear and when he did, I never got to read about his backstory. In addition, there was also Prof who was on the dark side. Personally, I didn't like him at all. He was never my favorite, but he just seemed even more insufferable. Prof became extremely predictable and cliche. I think this issue is solely my opinion and I usually prefer to have a more fleshed out antagonist.
All in all, the Reckoners trilogy is an epic sci-fi adventure and I would still highly recommend it. The third book was a bit of a disappointment, but the rest is a wonderful story.