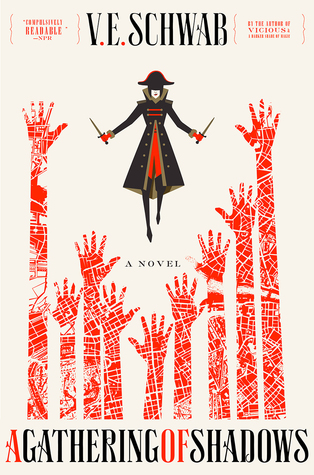 Published: February 23rd 2016 by Tor Books

Series: Shades of Magic #2

Source: Local Library

Genre: Adult, Fantasy, Magic

Synopsis: It has been four months since a mysterious obsidian stone fell into Kell's possession. Four months since his path crossed with Delilah Bard. Four months since Prince Rhy was wounded, and since the nefarious Dane twins of White London fell, and four months since the stone was cast with Holland's dying body through the rift – back into Black London.

Now, restless after having given up his smuggling habit, Kell is visited by dreams of ominous magical events, waking only to think of Lila, who disappeared from the docks as she always meant to do. As Red London finalizes preparations for the Element Games – an extravagant international competition of magic meant to entertain and keep healthy the ties between neighboring countries – a certain pirate ship draws closer, carrying old friends back into port.
And while Red London is caught up in the pageantry and thrills of the Games, another London is coming back to life. After all, a shadow that was gone in the night will reappear in the morning. But the balance of magic is ever perilous, and for one city to flourish, another London must fall.
Read review for A Darker Shade of Magic here.
So a week has passed and I cannot seem to get this book out of my head. Why do you do this to me V.E. Schwab?! After reading and loving A Darker Shade of Magic, I immediately put a hold on the sequel. The sequel did not disappoint and delivered an amazing second book. I did have a few minor issues, but overall a solid sequel. 

V.E. Schwab's writing is as always rich and atmospheric. The descriptions were so vivid and while reading, I could clearly imagine the scene in my head. Some of the dialogue in this book, it felt like you could feel the character's emotions. "I gave him my life, but you cannot ask me to stop living."-Kell The world building was even more developed, the entirety of the book takes place in Red London (AKA "Kell London" :D). Red London centers around magic and the magic was out of this world wonderful. V created this amazing magic system with so many intricate layers, I cannot wait to see more of it. 

As for the actual plot, I had a bit of an issue with. The whole idea of an Essen Tach(The Element Games) was super cool and really exciting. But, it took forever to get there. It was just preparation after preparation and the last chunk of the book is when we actually get to the games. I'm not saying that it was boring because it definitely wasn't. There was a lot of tension and character growth which I am all for. But I felt like the plot could have been expanded on. I was halfway through the book and I was thinking to myself, "Well this is great but where's the plot?" It took a while to get there is what I'm saying. When we did get to The Element Games, it was very enticing and I loved the duels. V does an amazing job vividly describing the scenes and I could easily see it play out in my head. Overall, the plot took a while to get there and there could have been more of it, but I loved the action scenes.

Now for the characters, which is what truly made the story. This is most definitely a character driven story which I really did love. We have Kell, who was pretty much very broody throughout the book. He was frustrated, sad, going crazy. Felt pretty bad for the poor guy. I did find some of his struggles to be hilarious and surprisingly relatable.  "Standing there on display was painful enough.  Now came the truly unfortunate task of socializing." I can relate Kell. Then there was Lila. Good old Lila. Wow. I think I was even more impressed with her in this book. She is truly above and beyond the badass stage and I haven't read about anyone who surpassed that stage. There was also some character growth which I really enjoyed. Not going to say much else because the reader should discover more about Lila on their own. 

I loved Rhy even more. In ADSOM, he was kind of the comical relief, we didn't really see much of him. In this book, there are few chapters from his perspective and we really get to see a different side of him. He's basically guilt ridden and ashamed after the events of ADSOM. You really begin to understand the loyalty and love he has for Kell and vice versa. One of my favorite things about Rhy is that even if he's going through so much, he still manages to be humorous and try and make the best of it. There is also another character that I won't say anything about, all I'm gonna say is that I love his character. I'm sure the people who've read AGOS know what I'm talking about. 😉

Highlight for spoiler on Rhy and a certain character: I must say, I was not expecting Alucard and Rhy, of all people to be in a relationship. If they are in a relationship because things are still fuzzy. All I can say is that I am really intrigued. I really want to know more about these two and their history. The little scene they had, OMG I can see why V was blushing because I was fanning myself. Can't wait to see more of these two. 😉

As for the issue I had with Kell and Lila's relationship. I didn't think there was enough development in that field. I'm sure everyone caught the hints in ADSOM about their potential more than friend feelings for each other. In AGOS, they were constantly thinking of each other, but no actual dialogue until the very end. Highlight for spoiler: I mean when they kissed, I was like, whoa there! This is happening a little too fast. They see each four months later and already kissing. I'm not ready to ship them yet but I probably will in the next book. I have a feeling. Hopefully, we'll see a lot more of that in the next installment. 

For the most part, A Gathering of Shadows was a solid sequel. After that ending, I am super stoked to see where Schwab takes this already epic story. I may or may not have read an excerpt of ACOL (A Conjuring of Light) and I NEED MORE. February 21st, please come faster. 
Rating: 4.65/5