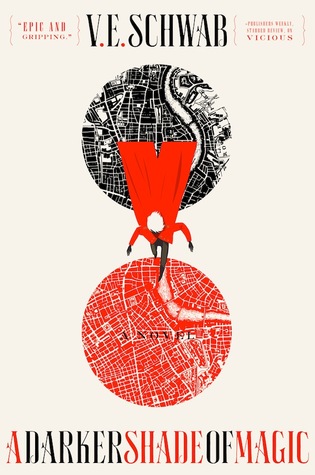 Published: February 24th 2015 by Tor Books

Series: Shades of Magic Trilogy #1

Source: Local Library

Genre: Adult Fantasy, High Fantasy, Adventure

Synopsis: Kell is one of the last Antari, a rare magician who can travel between parallel worlds: hopping from Grey London — dirty, boring, lacking magic, and ruled by mad King George — to Red London — where life and magic are revered, and the Maresh Dynasty presides over a flourishing empire — to White London — ruled by whoever has murdered their way to the throne, where people fight to control magic, and the magic fights back — and back, but never Black London, because traveling to Black London is forbidden and no one speaks of it now.

Officially, Kell is the personal ambassador and adopted Prince of Red London, carrying the monthly correspondences between the royals of each London. Unofficially, Kell smuggles for those willing to pay for even a glimpse of a world they'll never see, and it is this dangerous hobby that sets him up for accidental treason. Fleeing into Grey London, Kell runs afoul of Delilah Bard, a cut-purse with lofty aspirations. She robs him, saves him from a dangerous enemy, then forces him to take her with him for her proper adventure.
But perilous magic is afoot, and treachery lurks at every turn. To save both his London and the others, Kell and Lila will first need to stay alive — a feat trickier than they hoped. 

Spoiler Free Review:
When I first heard of this book, I felt slightly intimidated. I primarily read young adult and middle grade and adult fantasy was not my usual genre. But I decided to step out of my comfort zone and give it a try. As my first adult book, I would be absolutely honest in saying, I have fallen in love  with this book. 
Schwab's writing style in her YA novels are not bad. However, after reading this book, I noticed a difference in writing style in her adult novel. It is a lot less juvenile and a lot more descriptive and vivid. I could clearly picture the different Londons and the magic system was exceptionally unique. I love it when fantasy books have elemental control and the book exceeded my expectations. There were the four elements as well as blood magic, which was what Kell had, beside traveling between parallel worlds. I found it interesting on how Kell would use his magic, he would literally cutting himself. Speaking of cutting, there was quite a bit of violence and it was awesome. There was tons of killing and collateral damage, making it all the more realistic and much more enticing. Though, my interest in the violence could be influence from Delilah Bard. 😉
Besides the writing, plot and incredible world building, there were these wonderfully crafted characters. Kell is one of the main protagonists and I'm not sure on how I should describe him. He's an interesting man, different yet similar than dudes I read about. Clever, brave, reckless. Incapable of making smart choices without Lilah having to come save him once again. I did love the bond he had with Rhy and their brotherly love. Speaking of Rhy, he was your typical,spoiled prince. Nonetheless, I loved reading about him. He was charming and funny. A bit of a comical relief. For once, I read about a prince who is less serious, immature. People don't mature easily and Rhy is proof that not every prince is perfect. 
I then met Delilah Bard. A Cutthroat/murderer (self defense is a better word), pick pocketer. Really a terrifying woman. Yes, she can be obnoxious, but she grew on me. We have a female heroine who longs for adventure and freedom. One who actually kills people, who knows she must in order to survive. A character that isn't selfless at first sight, thinks about herself first, then grows to care for others. A thief who pickpockets to survive and for freedom as well. Full of sarcasm, wit, and foul language. A truly flawed yet admirable character. 
Another aspect I was very happy to not see, was the lack of romance. V.E. Schwab once said romance will never take on a central role in her books. She stayed true to her word, the action and adventure took up the majority of the story. I definitely prefer little to no romance, so I was happy to not see a big one here. There were a few hints of foreshadow, but no actual romance. 
Overall, I'm sure you know how much I adore this book at this point. I will most definitely be picking up the sequel ASAP. Perhaps you've heard of this book and would like to try it. Go on right ahead and get yourself a copy. You will not regret it. 

Rating: 5/5