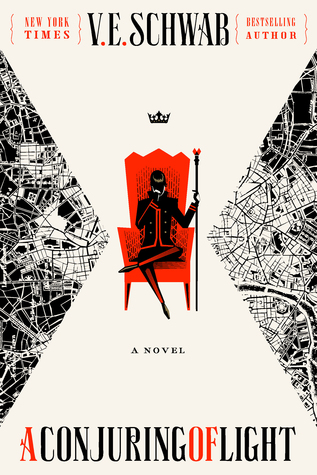 Published: February 21st 2017 by Tor Books

Source: Local Library

Format: Hardcover

Page Count: 624

Genre: Adult, Fantasy, Magic

Synopsis: Witness the fate of beloved heroes – and enemies.

THE BALANCE OF POWER HAS FINALLY TIPPED…
The precarious equilibrium among four Londons has reached its breaking point. Once brimming with the red vivacity of magic, darkness casts a shadow over the Maresh Empire, leaving a space for another London to rise.
WHO WILL CRUMBLE?
Kell – once assumed to be the last surviving Antari – begins to waver under the pressure of competing loyalties. And in the wake of tragedy, can Arnes survive?
WHO WILL RISE?
Lila Bard, once a commonplace – but never common – thief, has survived and flourished through a series of magical trials. But now she must learn to control the magic, before it bleeds her dry. Meanwhile, the disgraced Captain Alucard Emery of the Night Spire collects his crew, attempting a race against time to acquire the impossible.
WHO WILL TAKE CONTROL?
And an ancient enemy returns to claim a crown while a fallen hero tries to save a world in decay.
Spoiler Free Review: 
So I'm still reeling from the feelings of this finale. It really boggles my mind that Victoria Schwab isn't even thirty years old and she managed to write such great books already. She's a very talented writer and A Conjuring of Light is proof of her immense improvement since her first few books. A Conjuring of Light ended up being a great conclusion to the series, I did have a few issues here and there but it was still a great concluding novel. 

So A Gathering of Shadows ended in a huge cliffhanger and I was literally dying to know what happened next. The story did continue right where it ended, which is exactly what I hoped for it. I flew through most parts of the story, especially the humorous and action scenes. But there were some parts that were very dense and slow moving. For example, the scenes with the villains, I really didn't care for. The only "villainous" character I care for is Holland and I would consider him to be more morally grey. Additionally, there was a part to the plot-line that was resolved a little too conveniently and I wanted more of a different closure to. Also, how one of the character's arc ended didn't feel right to me which is a spoiler which you can see below.

Highlight for spoiler: The idea of the Inhibitor being the resolution felt very convenient to me. They retrieved the Inhibitor and Holland was the sacrifice and the demon was stuck inside of it. Then, it was handed over to Ned in White London for safekeeping. THIS WAS SUCH A STUPID MOVE. They should have just listened to Lila and dropped to the bottom of the Earth. Or burned it for that matter. This trope was used previously in other forms of media and I CAN'T STAND IT. The Inhibitor is going to end up in the wrong hands and then the demon will be set loose. Again. If you watched the T.V. show Xiaolin Showdown, you know what I'm talking about. 

In addition, I'm not sure how I feel about Alucard being Rhy's guard. I'm glad that him and Rhy are finally together, but I wished Alucard had more of a choice on what he wanted to do with his life. You can tell, he really likes adventure and he kind of gave it up for Rhy. He seemed pretty content in the end, but I wish there was more to his ending. I'm hoping Alucard gets all that he deserves. 

As for the characters, I leave most of that for you to read on your own. Kell was his usual self (Am I the only one who finds him kind of boring?). Lila, her usual bad-ass self, I LOVED her use of the f-word, total Ronan Lynch. Her and Ronan would not get along and Lila would end up stabbing him. Alucard had to come to terms with a lot in this book, we see a little more backstory from his character. Also, am I the only one who sees Magnus Bane in him? Holland is probably the most interesting, there is a lot of backstory on his character in this book. There are actual flashbacks on his past and how he came to be the person he is. Also, he reminds me of Prince Zuko, so he's kind of my favorite(just kidding, no one can surpass Lila & Rhy). Rhy, my favorite prince had a lot of character development. It was a little heartbreaking to see him mature and break the facade he held onto for so long. 
Highlight for spoiler: I guess dying a million times can do that to you. As for the romance, Kell and Lila were kind of just meh. Honestly, I wish they had stayed friends, but at least they're still partners in crime. Alucard and Rhy were intense AF and I really wanted more of them. 

Overall, this was a very satisfying conclusion to the series. The Shades of Magic series was a really fun journey, A Darker Shade of Magic was actually the very first adult fantasy I ever read and it did not disappoint. I definitely have some very fangirlish and happy memories attached to this series. (I'm hoping for a spin-off series.) These characters and this story in general is very memorable and it was an absolute pleasure to read this story.

"Magic made everything feel so impermanent, it was easy to forget that some things, once changed, could never be undone. That not everything was either changeable or infinite. Some roads kept going, and others had an end."

Rating: 4.25/5