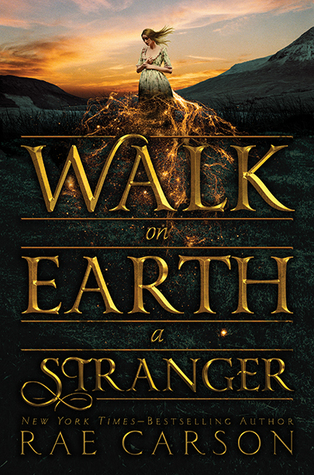 Published: September 22nd 2015 by Greenwillow Books

Series: The Gold Seer Trilogy #1

Source: Local Library

Genre: Young Adult, Historical Fiction, Fantasy, Western

Summary: Gold is in my blood, in my breath, even in the flecks in my eyes.
Lee Westfall has a strong, loving family. She has a home she loves and a loyal steed. She has a best friend—who might want to be something more.
She also has a secret.
Lee can sense gold in the world around her. Veins deep in the earth. Small nuggets in a stream. Even gold dust caught underneath a fingernail. She has kept her family safe and able to buy provisions, even through the harshest winters. But what would someone do to control a girl with that kind of power? A person might murder for it.
When everything Lee holds dear is ripped away, she flees west to California—where gold has just been discovered. Perhaps this will be the one place a magical girl can be herself. If she survives the journey.
Add to Goodreads.

Spoiler Free Review:
I've recently been reading quite a bit of historical fiction, and Walk On Earth A Stranger was another great one. It takes place in the 1850s, during the Gold Rush, with a wonderful and strong feminist heroine, Lee Westfall. The story as beautifully written, with an accurate historical aspect to it, a unique fantasy element and a wonderful cast of characters. 
Lee Westfall was quite the character. She was the main supporter for her family, her father being sick and not having any siblings to help. She hunted game, which let off a Katniss type character. Lee, however was very different from Katniss, from The Hunger Games. She was strong and tough, and was not afraid to speak her mind. I loved how she questioned things that women couldn't do at the time. Additionally, Lee also struggled with her disguise as a boy. The author had included realistic and relatable problems that Lee encountered, especially when she first got her period. But at the same time, she felt a sort of freedom as a male that she didn't have as a woman.
Though it was short, I loved the family dynamic Lee had with her parents. None of them kept secrets from each other, and Lee was very open towards both of them. She is an only child, which I guess is understandable why she is very close with both her mother and father. You don't read many books with the main character ( mostly a teenager), who is close to both her parents. I wanted a little more family time but, obviously that was cut short by a certain someone.
Besides her parents, Lee also had great friendships with most of the other characters. I loved Jefferson and was so glad he was half Cherokee (Native American) as well as his friendship with Lee. He was supportive of Lee and not sexist towards her at all. "Not bad for a girl,"says Jonas Waters. "It's not bad for anyone,"Jefferson snaps. Yes! High-five Jeff! However, I was grateful for how realistic the sexism was. It was frustrating and I wanted to slap some of the men in this book. But at the same time I was so glad that it was done properly.
My one very minor issue is, I was really hoping for a more fantasy element to the story. Lee's ability is so unique and how the author described her ability was so beautiful. "The gold sense sparks in the back of my throat, sharp and hard. It creeps down my throat and into my chest, where it diffuses into a steady buzz, like dancing locusts." It was written as if the author herself had the ability. I am really hoping for exploration in her power, as well as the origin in the next books in the trilogy. 
Being my first Rae Carson, I would say I am very impressed and I look forward to reading more of her books as well as the sequel to Walk on Earth A Stranger.
Rating: 4.95/5