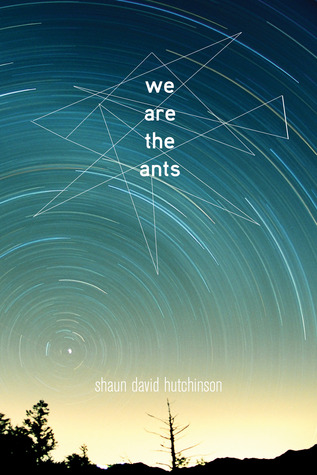 Published: January 19th 2016 by Simon Pulse

Source: Local Library

Format: Hardcover 

Page Count: 455

Genre: Young Adult, Sci-fi, Contemporary, LGBTQ+

Synopsis: There are a few things Henry Denton knows, and a few things he doesn't.

Henry knows that his mom is struggling to keep the family together, and coping by chain-smoking cigarettes. He knows that his older brother is a college dropout with a pregnant girlfriend. He knows that he is slowly losing his grandmother to Alzheimer's. And he knows that his boyfriend committed suicide last year.
What Henry doesn't know is why the aliens chose to abduct him when he was thirteen, and he doesn't know why they continue to steal him from his bed and take him aboard their ship. He doesn't know why the world is going to end or why the aliens have offered him the opportunity to avert the impending disaster by pressing a big red button.
But they have. And they've only given him 144 days to make up his mind.
The question is whether Henry thinks the world is worth saving. That is, until he meets Diego Vega, an artist with a secret past who forces Henry to question his beliefs, his place in the universe, and whether any of it really matters. But before Henry can save the world, he's got to figure out how to save himself, and the aliens haven't given him a button for that. 
Spoiler Free Review:  
After Salma (follow @salmaagroudy on Instagram) was raving about this book on Goodreads and Instagram, I decided I needed to give it a try. Ultimately, I really enjoyed this boook, it was definitely more of the better LGBTQ+ releases from 2016. 

After reading this book, I think I hate teenagers even more now. One of the reasons I don't particularly like reading YA contemporary is because the main characters are always likely to piss me off. The book is told in first person so I am in the head of a teenager. Sadly. Either way, it was also interesting to be in the mind of someone who has suicidal thoughts and depression, which the main character is suffering from. I also liked how sexuality was addressed as well. Henry is gay, but it doesn't define him. His sexuality is not what this story is about and it's depicted as something ordinary and not dramatized either. 

The story was mostly contemporary, but there was a sci-fi element as well. I enjoyed the contemporary aspect, it dealt with mental illness really well. Henry's story is a lot like a coming-of-age story and I liked him coming to terms with things going on in his life. Even if there was a romance, the love interest never changed Henry. He developed on his own, with help from family and friends. No one fixed or ever tried to fix him. However, where things got confusing is the sci-fi element. I didn't understand what the point of it was. It's hard to explain without spoilers, but basically it was extremely confusing and the ending didn't make much sense, in terms of the plot. Highlight for spoiler: I'm not sure if the aliens were ever real or a figment of his imagination. I felt like Henry could have been schizophrenic, he could have been hallucinating. I'm not entirely sure. 

As for the characters, Henry was your average nerdy, introverted teen. He wasn't my favorite, but I didn't mind him. His family life was pretty stereotypical. The usual dysfunctional family with the overworked mother, absent father, grandma with dementia and the stupid older brother. But I did really like his friends Audrey and Diego. Audrey clearly made some mistakes, but she was pretty relatable. When someone is experiencing suicidal thoughts, it's not just hard for them but for their loved ones as well. Diego did seem like he would be a "manic pixie dream boy." But there was a lot more depth to his story and I really enjoyed his character as well. Highlight for spoiler: I did find Charlie, Henry's brother's behavior towards Henry problematic. It seemed like he was abusing him. Although it was mentioned once, it's never brought up again. I think that it was a prominent issue and should have been discussed.

Overall, We are the Ants was a really enjoyable coming-of-age story. Thank to Salma for recommending it over and over. I had a lot of fun reading this book and I would recommend if you're looking for a heartfelt contemporary. 
Rating: 3.25/5