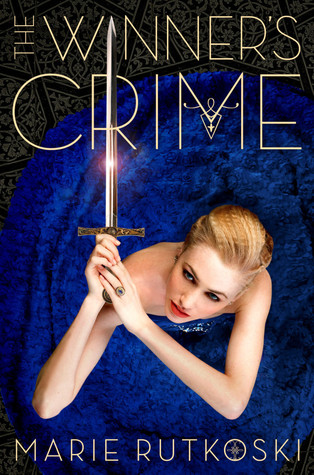 Published: March 3rd 2015 by Farrar, Straus and Giroux 

Series: The Winner's Trilogy #2

Source: Local Library

Genre: Fantasy<High Fantasy, War, Political Intrigue

Synopsis: Following your heart can be a crime.

A royal wedding means one celebration after another: balls, fireworks, and revelry until dawn. But to Kestrel it means living in a cage of her own making. As the wedding approaches, she aches to tell Arin the truth about her engagement: that she agreed to marry the crown prince in exchange for Arin's freedom. But can Kestrel trust Arin? Can she even trust herself?
Kestrel is becoming very good at deception. she's working as a spy in the court. If caught, she'll be exposed as a traitor to her country. Yet she can't help searching for a way to change her ruthless world…and she is close to uncovering a shocking secret.
This dazzling follow-up to The Winner's Curse reveals the high price of dangerous lies and untrustworthy alliances. The truth will come out, and when it does, Kestrel and Arin will learn just how much their crimes will cost them. 
Spoiler Free Review:
I honestly did not expect to be as heartbroken as I was when I first started reading this book. The sequel did not disappoint me at all. There was so much more politics, spying, manipulation, betrayal, heartbreak. You were reading in fear that Kestrel would be discovered, Arin killed, it was a rollercoaster of emotions. Marie Rutkoski's writing style is absolutely brilliant, she weaves words together so well. "The sky was a feather blanket of clouds, save for one blue hole in the fabric. A blue cloud in a white sky." While reading, I could feel each of the character's emotions, the guilt, anger, and heartbreak. It is so amazing how much of an effect Marie Rutkoski's writing can have on you. 
Kestrel was still, undoubtedly clever. In the sequel, she became a spy and things got a lot more interesting. There was a lot of double crossing and lies, and I really loved that the sequel had more of a political standard than action. The way Kestrel manages to manipulate and convince people is so brilliant, but at the same time, heart wrenching. "Her fierce creature of a mind: sleek and sharp-clawed and utterly unwilling to be caught." There were things that she would say and decisions she would make that in the moment would make you think, "Can her actions truly be justified?" Honestly, despite all of the regrettable acts she's committed, I think she really deserves redemption. Kestrel had a reason for what she did and you get a sense of understanding to her actions. She is truly a very flawed character which is what makes one of my favorite female heroines. 
Arin did play a larger political role, now that we saw him more as a Governor rather than a rebel or love interest. For some portion of the book, I pitied him a bit for being rather clueless about certain secrets. That poor dude just needing a nice sitting down to or a letter on an explanation on what was going on with Kestrel. He was rather conflicted the whole book, switching his opinion back and forth. He did infuriate me at times, especially the last scene with Kestrel. Highlight for spoiler: I MEAN DUDE! HOW CAN YOU NOT SEE HER WARNING? HER FATHER IS LISTENING! *GROANS. 
As for the pacing of the book, it was actually quite slow in the beginning, but it did speed up and I got so caught up in what was going to happen next I zoomed through it. Really the whole sequel was a build up to the end, but I still very much loved it. Additionally, I actually really loved Prince Verex. I expected him to be this bratty, spoiled prince, which he kind of was. However, he was also so sweet and adorable. His friendship with Kestrel was innocent and it was nice to see a lighthearted friendship in the midst of all the craziness. I really like that he realized a few things about Kestrel, but was still supportive. I really liked the scene where he spoiler: gave her a puppy. That was so sweet and exactly what Kestrel needed at the time. I really do hope to see a lot more of him in the future. 
The emperor is absolutely horrendous and I despise him. He was a tyrant, a very clever one, but nonetheless horrible. Although, I never liked Kestrel's father, I did think the little father-daughter moments were very sweet, with the exception of the last scene, of course. It seems like Kestrel wanted her father to be more accepting and he was much better. In spite of that, I still hated a lot of the decisions he took and I don't think I'll ever justify his actions.
The ending of this book really hit me hard. It ended in such a heart wrenching ending. I am so excited for the last book and can't wait to see how Kestrel and Arin's story comes to an end.