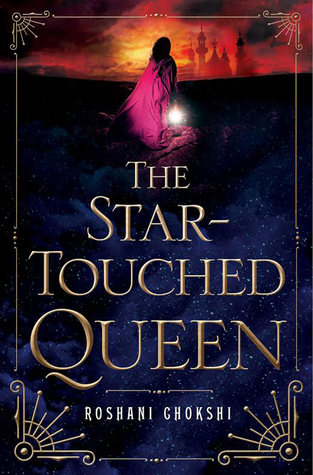 Published: April 26th 2016 by St. Martin's Griffin

Series: The Star Touched Queen Companion Series #1

Source: Overdrive

Genre: Young Adult, Fantasy, Indian Mythology, Romance
Synopsis: Fate and fortune. Power and passion. What does it take to be the queen of a kingdom when you're only seventeen?

Maya is cursed. With a horoscope that promises a marriage of death and destruction, she has earned only the scorn and fear of her father's kingdom. Content to follow more scholarly pursuits, her whole world is torn apart when her father, the Raja, arranges a wedding of political convenience to quell outside rebellions. Soon Maya becomes the queen of Akaran and wife of Amar. Neither roles are what she expected: As Akaran's queen, she finds her voice and power. As Amar's wife, she finds something else entirely: Compassion. Protection. Desire…
But Akaran has its own secrets—thousands of locked doors, gardens of glass, and a tree that bears memories instead of fruit. Soon, Maya suspects her life is in danger. Yet who, besides her husband, can she trust? With the fate of the human and Otherworldly realms hanging in the balance, Maya must unravel an ancient mystery that spans reincarnated lives to save those she loves the most…including herself. 
So yet another book that has gotten a ton of hype recently. What truly caught my eye is that the author is South Asian and wrote a book based off of Indian mythology. I really did enjoy this story and can't wait for more.

The writing definitely stood out to me. The author has gorgeous prose and the descriptions of the settings was easily painted in my mind. The vibrant colors of the clothes, saris in this case, I could easily picture the character's appearance. Roshani Chokshi's writing is like a piece of art, she can easily paint simple uses of figurative language into her descriptions and twist words into sentences of beauty, To be completely honest, I would give this book a shot solely for the exquisite writing. "I wanted a love thick with time, as inscrutable as if a lathe had carved it from night and as familiar as the marrow in my bones. I wanted the impossible, which made it that much easier to push out of my mind." 

The story is inspired by a few Western fairytales, Beauty and the Beast, Hades & Persephone, Cupid & Psyche, etc. The Indian mythology is based off of the myths, Savitri and Satyavan, Shiva and Parvati, and a few others. It was interesting seeing the parallels between the well known Western fairytale mixed in with the Indian mythology. 

Something I found to be really cool is that I was able to recognize the language and terms used. Although I'm not Indian (I'm Bengali), being South Asian a lot of the food and clothes were easily recognized. Rasmalai and carrot halwa are two of my favorite desserts that are mentioned. It made me pretty hungry but I also came to appreciate my culture a little more. I've read very few books I could truly resonate with and it's a great feeling to feel a connection with a book through its culture. 

The world building was done pretty well. The author did a wonderful job crafting different worlds and kingdoms. The plot did fall a little flat. Things got extremely confusing towards the middle and all of the build up to what I thought would happen pretty much fell apart. Things did clear up a bit, but I feel like somethings things could have been explained a little better.

The main character is Princess Maya, a headstrong and stubborn character. She willing to do whatever it takes to win her freedom which is an admirable aspect about her along with her love and devotion to her little sister Gauri. Gauri sounds like an interesting character and I'm excited to see her story unfold. Amar was a bit of a one dimensional character. I'm not entirely sure on how I feel about him, he was kind of just there for the romance. A huge issue I had were Maya's feelings towards Amar. It was very hot and cold. She was switching between hating and loving him. This is one of my pet peeves and really just shows no faith in a relationship. 

Overall, as a debut novel, this was very fun and enjoyable to read. I always love to read books by an author who is a person of color. Roshani Chokshi sounds like an amazing person, from what I've seen on social media. I will definitely pick up more of her works as they come out and can't wait to see more from her. 
Rating: 3.75/5