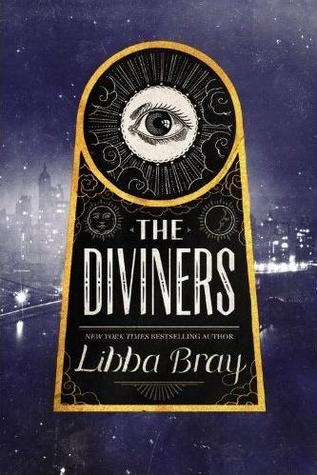 Published: September 18th 2012 by Little, Brown Books for Young Readers

Source: Local Library

Format: Hardcover

Page Count: 578

Series: The Diviners #1

Genre: Young Adult, Historical Fiction, Paranormal, Mystery

Synopsis: Evie O'Neill has been exiled from her boring old hometown and shipped off to the bustling streets of New York City—and she is pos-i-tute-ly ecstatic. It's 1926, and New York is filled with speakeasies, Ziegfeld girls, and rakish pickpockets. The only catch is that she has to live with her uncle Will and his unhealthy obsession with the occult.

Evie worries he'll discover her darkest secret: a supernatural power that has only brought her trouble so far. But when the police find a murdered girl branded with a cryptic symbol and Will is called to the scene, Evie realizes her gift could help catch a serial killer.
As Evie jumps headlong into a dance with a murderer, other stories unfold in the city that never sleeps. A young man named Memphis is caught between two worlds. A chorus girl named Theta is running from her past. A student named Jericho hides a shocking secret. And unknown to all, something dark and evil has awakened. 
After reading up on the controversy surrounding Libba Bray's Gemma Doyle Trilogy, I was hesitant going into this book. I will say, I didn't find anything to be problematic which was a relief. This book was a mixture of creepy, spunky and thrilling and it was a lot of fun to read.

The setting takes place during the 1920s in NYC. As I've mentioned previously, I'm a NYC native, so it was nice to read about it again. Libba Bray actually lives in Brooklyn and definitely captured the essence and atmosphere of New York very well. I do find that some authors can't quite capture New York all that well.  I also listened to some of the story on audio and the narrator is fantastic. She captures each of the NYC 20's accents so well and brings each of the characters to life. It seemed a lot like I was listening to a T.V. show. Despite the large amount of perspectives, it never felt too overwhelming, another aspect I appreciated. 

As for the plot, I did find it to be very slow moving and there were some chapters I would take out. Some felt unnecessary and didn't add much to the story,besides confusion. Once it did pick up, I really enjoyed the mystery as well as the paranormal aspects. Things get really creepy towards the middle and end, if you're looking for a good scare.

There are a bunch of perspectives in this book, mainly being Evie and Memphis. Evie was a lot of fun to read about, since she's so spunky and sassy. But she wasn't my favorite character. She is basically the epitome of a naive white girl from Ohio. A lot of her actions were really selfish and shallow even if it was apart of the character development. Evie was still fun to read from and I love her 20s accent. 

I also really liked Memphis's perspective. He's African American and living in Harlem which has a whole different atmosphere. Theta was another interesting character and her backstory was the most intriguing. The side characters were interesting as well and their backstories seemed intriguing as well.  As for the very peculiar romance, it was completely unnecessary and out of the blue. Frankly, I never go into a book looking for romance, but this was far too sudden and just plain random. 

Overall, I found the The Diviners to be equally entertaining and immersive. Since the story is definitely not over, I'm looking forward to reading the sequel.
Rating: 3.25/5