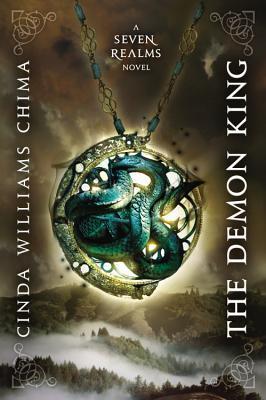 Published: October 6th 2009 by Hyperion Books

Series: Seven Realms Series #1

Source: Local Library

Genre: Fantasy>High Fantasy, Magic, Adventure

Synopsis: Times are hard in the mountain city of Fellsmarch. Reformed thief Han Alister will do almost anything to eke out a living for his family. The only thing of value he has is something he can't sell—the thick silver cuffs he's worn since birth. They're clearly magicked—as he grows, they grow, and he's never been able to get them off.

One day, Han and his clan friend, Dancer, confront three young wizards setting fire to the sacred mountain of Hanalea. Han takes an amulet from Micah Bayar, son of the High Wizard, to keep him from using it against them. Soon Han learns that the amulet has an evil history—it once belonged to the Demon King, the wizard who nearly destroyed the world a millennium ago. With a magical piece that powerful at stake, Han knows that the Bayars will stop at nothing to get it back.
Meanwhile, Raisa ana'Marianna, princess heir of the Fells, has her own battles to fight. She's just returned to court after three years of freedom in the mountains—riding, hunting, and working the famous clan markets. Raisa wants to be more than an ornament in a glittering cage. She aspires to be like Hanalea—the legendary warrior queen who killed the Demon King and saved the world. But her mother has other plans for her…
Spoiler Free Review: 
What better way to start off the New Year by starting a new fantasy series? I love marothoning series, especially complicated high fantasies. Although, the story went in a different direction than I was hoping, I still very much enjoyed it. The plot was very engrossing and the characters were so much fun to read about.
The world building was very good and the author was able to balance out the characters, plot, and world building. It was easy to get an understanding of what was going on in the world. I also really liked the unique magic system and the laws behind it. The story took place in a city rather than a kingdom which I found to be very interesting that a queen would rule a city. The story of Hanalea and The Demon King was a fascinating one and I loved how a warrior queen was admired by everyone in Fellsmarch. I'm not sure if it's just me, but Hanalea was seen to me as an "Avatar" like figure to the people. She was admired and there were statues of her in the city. 
I really liked the two main characters, Han and Raisa. Han is a wanted criminal in a Fells known as "Cuffs" because of his thick silver cuffs on his arm that he can't seem to get off. Even if he did many horrible things, he's not a heartless monster. He  had this charm to his character that reminded me of Flynn Rider from the Disney movie, Tangled. Raisa ana' Marianna was the princess heir of Fells, obviously coming from a completely background than Han. She is very stubborn, selfish, and a bit willful. But, what I liked about Raisa was that she knew what she did wrong. She understood that she needed to know what was going on in her city Fells in order to be queen. I liked that Raisa tried to improve and better herself.
As for the love interest, I liked Amon. He was very sweet and compassionate, even if he did get on my nerves about protecting Raisa. Of course I hated Micah, I thought he was quite obnoxious. The romance with Raisa was actually irritating. It seemed like she was jumping back from guy to guy. I was glad that she was clever and figured out Micah. There was, however, a moment with Amon that was very spontaneous and unnecessary. 
I'm very much interested to see what goes down in the sequel, and I'm hoping there will be more magic and political intrigue. If you a reader of high fantasy and big books, I would most definitely recommend this book. 😉