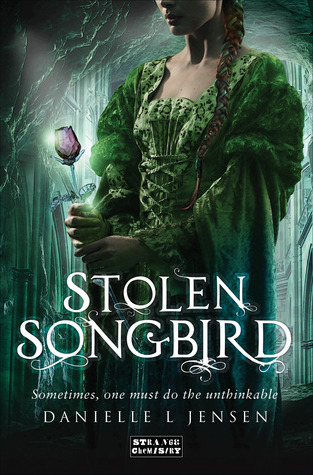 Published: April 1st 2014 by Strange Chemistry

Series: The Malediction Trilogy #1

Source: Overdrive Ebook Library

Genre: High Fantasy, Paranormal, Mythology

Synopsis: For five centuries, a witch's curse has bound the trolls to their city beneath the mountain. When Cécile de Troyes is kidnapped and taken beneath the mountain, she realises that the trolls are relying on her to break the curse.
Cécile has only one thing on her mind: escape. But the trolls are clever, fast, and inhumanly strong. She will have to bide her time…
But the more time she spends with the trolls, the more she understands their plight. There is a rebellion brewing. And she just might be the one the trolls were looking for… 
Spoiler Free Review:
Stolen Songbird was truly another wonderful high fantasy treat. While reading, you witness trolls, politics, witches, curses, and so many other creatures and twists thrown in. Starting with the world building, you enter Trollus, a city where trolls reside trapped by an unknown witch's curse. The world was so incredibly fascinating. I must admit, like a typical human being I expected the trolls to be ugly and horrible and thought they lived in a cave. Technically, I was somewhat right. I was surprised to see how trolls were in fact quite similar to humans. They were able to obtain magical abilities and hated humans, but there were definitely some qualities that of a human. Even though, the world and history of Trollus was so interesting to read about, I wanted a little more. The world was very descriptive as far as writing goes, but I felt if we knew a little more history, the world building would be well developed. 
Cécile is a human and an aspiring singer. She wasn't special and wasn't a bad-ass warrior trying to survive, not like the overused trope. What I liked about Cécile was she reacted like how any human would react if they were kidnapped by trolls. She was terrified and escape was the first word on her mind and soon as she entered Trollus. At the same time, Cécile was very clever and practical. Furthermore, I found myself loving the scenes where she sang. Somehow, it felt and sounded better than the, at times annoying Disney movies. It was really the only time Cécile felt like herself and I was so glad that she had a beautiful talent.
As for Tristan, the cranky and sarcastic prince. "Now that your speech impediment has been rectified, perhaps you may say something. It would be best if it were humorous. I enjoy a good jest." Ah, Tristan. There were times where I wanted to retort a snide remark right back in his face. Then there were times where I loved him and his sarcasm. In the beginning, the conversations with Cécile and Tristan was so entertaining and hilarious. 
 "Ha ha, How dreadfully clever. And speaking of clever, is this your bid for escape?" He contemplated my clothing. "In a dressing gown and bare feet? Now tell me, if I put on nightclothes and slippers, might I join you, or is this a solo adventure?" 
My eyes stung. "You think this is all exceedingly funny, don't you? I'm nothing but a joke to you."
 His brow creased into a frown. "If you're a joke, it isn't an especially humorous one."
I threw my hands up in frustration. "You are the most intolerable individual I've ever met." 
He bowed. "Why, thank you, Cécile. Always a pleasure to know when one's accomplishments are recognized.
Although, there was not insta-love, the romance was not my favorite. After the supposed relationship started, the characters changed. Tristan completely changed his character and you could hardly recognize him. This was somewhat understandable, due to the circumstances, but I wish there was just more of his actual personality. Tristan is such a complicated character and has so many layers to him. You really don't know much about him and would love to know more in the future books. 
Overall, Stolen Songbird was a wonderful fantasy book and a great beginning to The Malediction Trilogy. I highly recommend for fans of high fantasy, politics, and of course trolls. 
Rating: 3.98/5