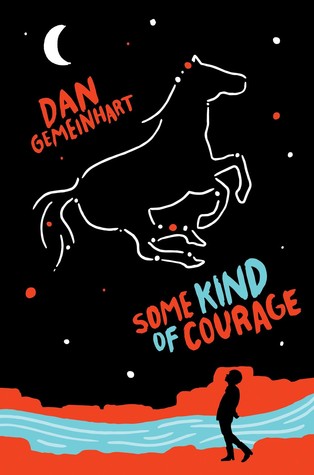 Published: January 26th 2016 by Scholastic Press

Source: Local Library

Genre: Middle Grade, Historical Fiction, Western, Adventure

Synopsis: Saddle up for a life-defining, death-defying adventure. 

Joseph Johnson has lost just about everyone he's ever loved. He lost his pa in an accident. He lost his ma and his little sister to sickness. And now, he's lost his pony–fast, fierce, beautiful Sarah, taken away by a man who had no right to take her.
Joseph can sure enough get her back, though. The odds are stacked against him, but he isn't about to give up. He will face down deadly animals, dangerous men, and the fury of nature itself on his quest to be reunited with the only family he has left.
Because Joseph Johnson may have lost just about everything; but he hasn't lost hope. And he hasn't lost the fire in his belly that says he's getting his Sarah back–no matter what. 
Spoiler Free Review: 
I read The Honest Truth, Dan Gemeinhart's debut last year. I have a review, which was my very first review and it is very embarrassing, you can read it, but I wouldn't recommend it. Anyway, I'm still amazed at how he managed to create a beautiful coming of age story. It became one of my favorites of last year, so I was eagerly anticipating his next book. Some Kind of Courage is quite different than his first novel. It is a western historical fiction, but still a wonderful, adventurous coming of age story. 

I adored the writing style in this book. The book is narrated in first person point of view from Joseph's point of view. The writing in The Honest Truth was simple, but the simplicity was what made it beautiful. In this book, the writing has a western feel to it which goes with the time period of 1890. The characters had a Southern accent and I could clearly imagine them talking. If I ever decide to reread this book, I would definitely go for the audiobook.

Despite being a historical fiction, the time period that takes place is not one that many would know about. The 1890s doesn't necessarily depict a pivotal time in history, it's mostly forgotten. However, there are many important topics brought up that I was not expecting. The premise seems simple enough. A boy goes on a journey to get his horse back. Dan Gemeinhart really does dig deep into a dark and serious place. He brings up the topic of racism back then, specifically how people treated people who were Chinese or any person of color. They were handled in a tactful way and I enjoyed the addition of those aspects.

The main character, Joseph was not an outstanding character, by any means. He's respectful and brave, a little too generic, but I didn't hate him. Mostly, I loved the friendships he developed with the other characters. His companionship with his horse, Sarah was so sweet and even we didn't see much of Sarah, you could tell how loyal the two were to each other. Additionally, there is another friendship Joseph develops with a character that really one of the reasons for my high rating. The two couldn't understand each other since they both spoke different languages, but they understood each other on a different level. The friendship they developed was loyal and strong. Who this character is, I will leave the reader to discover on their own.

I did have a small issue with the fact that the story followed a similar format to the author's previous book. It didn't bother me that much but there could have been more of a distinction. Overall, I would recommend checking out this book solely for the writing or the friendships or just the entirety of it. Dan Gemeinhart knows how to write incredible stories, and I will be picking up his future books. 
Rating: 4/5