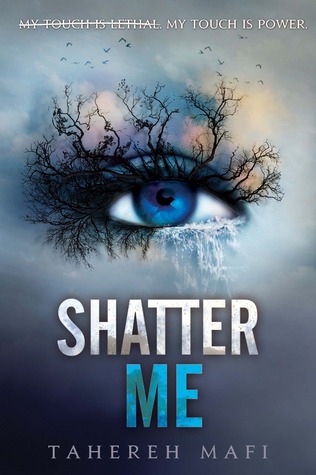 Published: October 2nd 2012 by HarperCollins 

Series: Shatter Me Trilogy #1

Source: Local Library

Genre: Young Adult, Dystopian, Post Apocalyptic> Superpowers

Premise: Juliette hasn't touched anyone in exactly 264 days.
The last time she did, it was an accident, but The Reestablishment locked her up for murder. No one knows why Juliette's touch is fatal. As long as she doesn't hurt anyone else, no one really cares. The world is too busy crumbling to pieces to pay attention to a 17-year-old girl. Diseases are destroying the population, food is hard to find, birds don't fly anymore, and the clouds are the wrong color.
The Reestablishment said their way was the only way to fix things, so they threw Juliette in a cell. Now so many people are dead that the survivors are whispering war – and The Reestablishment has changed its mind. Maybe Juliette is more than a tortured soul stuffed into a poisonous body. Maybe she's exactly what they need right now.
Juliette has to make a choice: Be a weapon. Or be a warrior. 
Spoiler Free Review:
I can definitely see why so many readers adore this series. The first was very addicting. Tahereh Mafi's writing style was wonderful. It was so lyrical and poetic. The crossed out words were very interesting and I found them to be less annoying than I was expecting. The story was more character driven rather than plot driven, which sometimes I am okay with, but I was hoping for a more fleshed out world.
We are introduced to this dystopian society which is run by The Reestablishment. The author is very descriptive in describing the world and what it has come to. However, there was no explanation. How did it come to be? Was there a war? None of that is explained. I think the reason for that is because it is the first book in a series. But I was still hoping for a bit more insight into the world. Additionally, there was Juliette's powers. I found it fascinating how she could kill people by touching their skin. But again, we didn't get an explanation as to what caused this power. I'm really curious for a more thorough world build up.
Juliette was an overall okay character. It's obvious she's been through a lot, so she is prone to being terrified. Her insecurity and fright of what she was experiencing was understandable. Even so, she did get on my nerves. She could be  really immature and it seemed like she was crying all the time. I also felt like she was too dependent on other people for her safety.
Adam was a very sweet character at first. He was nice to Juliette, the first person ever to be nice to her. I think they could have been great friends. I was disappointed when they formed a relationship. Their "relationship" really confused me. There was absolutely no chemistry and they barely knew anything about each other. Furthermore, I noticed that Adam was very protective over Juliette. Which is fine, but I do think he went overboard. There were moments where he wouldn't even let Juliette speak for herself, which I found to be very annoying.
Warner is probably the most  interesting character. I've heard great things about Warner from many people, so I had some high expectations. He wasn't all too great in the beginning. I found him to be quite creepy and controlling. However, I knew there was more to him than shown. There were these little moments that showed a little more to his character. The last scene with him was rather abrupt, though of course I know this is not the last we'll see of him. 😉
Of course, Kenji was my favorite character in this book. There's always something about the comical characters that is so refreshing and appealing. Honestly, the second Kenji came into play, the story was lighter and funnier. I also really liked James, he was very sweet and adorable.
Overall, Shatter Me was quite an addicting and delightful read. I am looking forward to the next two books as well. 
Rating: 3/5