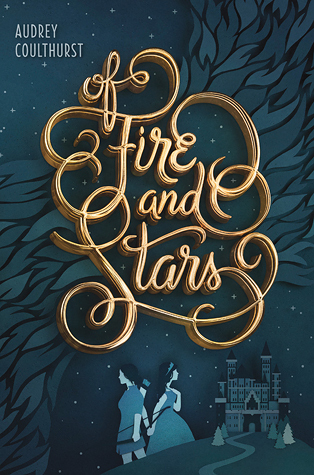 Published: November 22nd 2016 by Balzer + Bray

Source: Local Library

Format: Hardcover

Page Count: 389

Genre: Young Adult, Fantasy, LGBTQ+

Synopsis: Betrothed since childhood to the prince of Mynaria, Princess Dennaleia has always known what her future holds. Her marriage will seal the alliance between Mynaria and her homeland, protecting her people from other hostile lands. But Denna has a secret. She possesses an Affinity for fire—a dangerous gift for the future queen of a kingdom where magic is forbidden.

Now, Denna must learn the ways of her new home while trying to hide her growing magic. To make matters worse, she must learn to ride Mynaria's formidable warhorses—and her teacher is the person who intimidates her most, the prickly and unconventional Princess Amaranthine—called Mare—the sister of her betrothed.
When a shocking assassination leaves the kingdom reeling, Mare and Denna reluctantly join forces to search for the culprit. As the two become closer, Mare is surprised by Denna's intelligence and bravery, while Denna is drawn to Mare's independent streak. And soon their friendship is threatening to blossom into something more.
But with dangerous conflict brewing that makes the alliance more important than ever, acting on their feelings could be deadly. Forced to choose between their duty and their hearts, Mare and Denna must find a way to save their kingdoms—and each other. 

Spoiler Free Review:
In fantasy, LGBTQ+ characters are very rare, so I'm sure the main reason people wanted to read this book was because of the refreshing romance, myself included. I'm not one to read a book solely based on romance, but this story was far too entertaining. I ended up really enjoying this book, more for the characters and the horses rather than the plot.

The plot is pretty generic and the world building is pretty lackluster. This did bother me a little bit in the beginning and I think the author should have balanced out the plot and romance. The kingdom of Mynaria hates magic, though there's never a reason as to why they despise it so much. I would have liked to know more about their history on magic in Mynaria. In addition, The Directorate or council of elders were incredibly stupid and close minded. It was unbelievable on how idiotic their decisions were. I did love how horses were involved in the story. I love horses and reading about them. I especially loved the chapters with the riding lessons the most. 

The book is told from alternating points of views from Princess Denna and Mare. Denna is bookish and intelligent, she's basically been raised to take on the throne. Mare is more of the rebel, ignored by the kingdom, sarcastic and prickly. They were a little tropey, but I still really liked them. Mare reminded me of Ronan Lynch from the Raven Cycle,with her sarcasm and how she couldn't care less about being royal. Her love for horses completely reminded me of Farmer Ronan. Though, Mare is way cooler (She'll kick your ass, Ronan). Though, I think Ronan and Mare could potentially get along, probably after exploding at each other.  Denna was adorable and a cinnamon roll. I really liked the romance as well. It did get get very cheesy, but it was also so precious and adorable. 

Overall, I would describe this book as a lot of fun. If you're the type of person who wants to read a fantasy with good plot and world building, I wouldn't necessarily recommend. But if your looking for something that's LGBTQ+ and equally angsty and adorable, I would try Of Fire and Stars. 🙂
Rating: 3.25/5