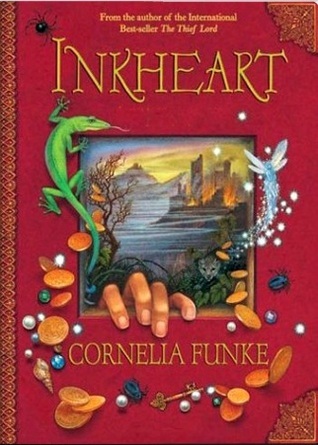 Published: October 6th 2003 by Chicken House

Series: Inkworld Trilogy #1

Source: Local Library

Genre: Fantasy, Fiction<Books About Books

Synopsis: Twelve-year-old Meggie learns that her father, who repairs and binds books for a living, can "read" fictional characters to life when one of those characters abducts them and tries to force him into service.

Characters from books literally leap off the page in this engrossing fantasy. Meggie has had her father to herself since her mother went away when she was young. Mo taught her to read when she was five, and the two share a mutual love of books. He can "read" characters out of books. When she was three, he read aloud from a book called Inkheart and released characters into the real world. At the same time, Meggie's mother disappeared into the story. This "story within a story" will delight not just fantasy fans, but all readers who like an exciting plot with larger-than-life characters.  
Spoiler Free Review:
There is always something magical to read a book about a book. To read about a character who shares your love for books. Who understands the feeling of escaping into a different world. Inkheart is a book that you fall into, you are trapped in the midst of it all until the very last page. I was automatically intrigued by the premise of the story. Once the story was set and it had launched into action, I was fastened to my seat, anticipating the next page. This book is truly a wonderful adventure for all ages. 
One of my favorite things about this book were the little passages/excerpts at the beginning of each chapter. Some of them meaningful, inspirational, hilarious, you name it. The excerpts actually came from different books, many of which famous, such as Peter Pan, The Princess Bride, Mark Twain, Charles Dickens, and many more. I soon realized that the excerpts were actually a foreshadow to what was to come in the chapter. The excerpts, were in a way, hinting the events or themes in the chapter. I'm not sure if I'm the only one who finds it such an awesome thing to add. Even so, I think that it's such a fun way to keep the readers guessing. 
I found Meggie to be a great main character and seemed very real to me. I really related to her on a bookish level, as well as how she reacted to a lot of the situations she was put in. There were times where I wanted a more heroic side to her. I think that the author was trying to build up to her being a true heroine at the end. As for the other characters, I found them to very enjoyable, if a bit peculiar. Mo was so loving and caring, I really do wish an actual "book doctor" existed. I also really came to like Elinor as well. I would describe her as the "cranky comical relief." Her swearing  really brightened the mood. To be honest, I imagine myself as Elinor, in my old age, surrounded by books, being an antisocial bookworm.
I found Dustfinger to be the most complicated character in the book, possibly in the trilogy. My first impression of him was annoyance, mistrust, and bit creeped out. I really didn't trust him at all until I was more than half way through the book. Honestly, Dustfinger is such a complex and fascinating character and there is so much more to his backstory to discover. You really don't know what to expect from him. I thought it was exceptionally cool that he was a "fire eater" and how he wielded his ability.
Capricorn was the main villain of the novel. I can't say too much about him without giving away spoilers, except that I hated him. He's the type of villain that you automatically hate and want dead. I will admit, he is very clever, especially at concealing his emotions. Basta was another villain, and would best be described as Capricorn's personal pet, one who would do anything for his master. Frankly, I hated Basta even more than Capricorn. Him and his stupid knife and superstitions.
The overall plot of the story was very fun, but at the same time had some darker themes for a middle grade. It's always interesting to see characters jumping out of a book, which occurs quite often. I will say that the premise at the front flap of the books is a bit misleading. It didn't start how I expected and the story went in a different direction. All the same, the plot took several turns and twists. Even though the book ended in a nice, refreshing ending, I'm still excited to know how the story will continue in the sequel.
Inkheart is truly a wondrous adventure for a reader. You are with Meggie through the entire book, until the last page. Maybe someday, I will dare to read it out loud to my own children. Who knows? Maybe I'll escape to the Inkworld. One can always hope.