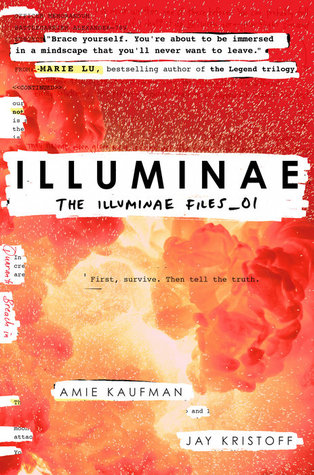 Published: October 20th 2015 by Knopf Books for Young Readers

Series: The Illuminae Files Companion Trilogy #1

Source: Local Library

Genre: Science Fiction>Space, Dystopia

Synopsis: This morning, Kady thought breaking up with Ezra was the hardest thing she'd have to do.

This afternoon, her planet was invaded.
The year is 2575, and two rival megacorporations are at war over a planet that's little more than an ice-covered speck at the edge of the universe. Too bad nobody thought to warn the people living on it. With enemy fire raining down on them, Kady and Ezra—who are barely even talking to each other—are forced to fight their way onto an evacuating fleet, with an enemy warship in hot pursuit.
But their problems are just getting started. A deadly plague has broken out and is mutating, with terrifying results; the fleet's AI, which should be protecting them, may actually be their enemy; and nobody in charge will say what's really going on. As Kady hacks into a tangled web of data to find the truth, it's clear only one person can help her bring it all to light: the ex-boyfriend she swore she'd never speak to again. 
Spoiler Free Review:
So this book….BLEW MY MIND. Illuminae went above and beyond my expectations and absolutely loved every page of the story. 
I would first like to discuss the writing style and format. A lot of people were hesitant to pick up the book, specifically because of the format. The whole story is told through text messages, confidential files, transcripts, nothing liked I had ever read before. Despite the hefty size of the book, the story is very fast paced and keeps you at the edge of your seat. I also really loved when the writing style changed depending on the person. Typically, when it was two friends or teenagers talking, there was a lot of slang and texting language. It was quite relatable and even hilarious at times. During a report between the captains and commanders, the conversation was much more professional and official. The transitions went by smoothly and flowed well with the story.
In addition, the world was fleshed out very well. Although the story is told through files, I could vividly imagine the world and everything that was occurring. There were also cool graphics that brought the story to life. The plot and storyline was a bit confusing at the start, but as the it moves on, I was completely immersed in the story. The story is so unique and took so many unexpected turns. There were moments where I thought I knew what was going to happen, but then there's a twist that changes my perspective on everything.
Despite the format of the book, the characters and their development was a strong suit. There is definitely a lot more focus on Kady than Ezra, but I loved them both equally. Kady was a strong heroine and some great development. She's both intelligent and sassy, and grew to become a strong, selfless young woman and I really came to admire her. One of my favorite things about her was that she was a hacker, I typically  don't read about many main characters, specifically female who are good with computers. I really loved Ezra as well which may came as a surprise. He started off as a jock and was seen as a comical relief through my eyes. He matured throughout the book, which I appreciated and was such a loyal and sweet guy. I could have definitely done with more of Ezra. We didn't get much perspective on him, especially towards the end. 
Katy and Ezra were also great not only separately but also together. I loved their conversations through instant messaging. They were sweet and funny and added a lot of lightness to the scary situation they were facing. You could tell they knew each other well and I enjoyed their conversation. Another one of my favorite characters was Byron Zhang. We didn't see a whole lot of him, but he was a wonderful mentor to Kady. Zhang is a pretty underappreciated character and I personally thought he was very interesting. Of course, his pet names for Kady were cute as well. "Grasshopper." 😉
Lastly, we have the Aidan, the artificial intelligence program. When we first him, I didn't know what to think. To say the least, he is insane. There were some people who really enjoyed his character. Personally, I think he's  very fascinating, however I couldn't justify his actions. I understand he is a computer and was trying to save the humans, but what he did in the middle of the book was completely horrible. I found it very interesting that he had some "humanlike" qualities. He was a bit sarcastic and very arrogant and even started to have feelings for a certain character. However, I did find his affinity towards the character to be quite alarming and creepy.  Overall, Aidan is a very intriguing and complicated computer, and though I don't nessarily like him, I would like to know more about him.
All in all, Illuminae was a fantastic book. I definitely see myself rereading it, probably as an audiobook, I think it would be fun to listen to the different cast of voice actors. I highly recommend this book, science fiction fan or not,  Illuminae will be sure to blow your mind.