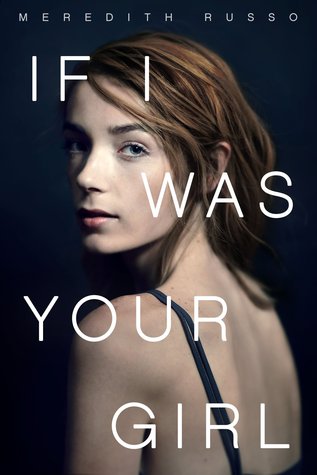 Published: May 3rd 2016 by Flatiron Books

Source: Overdrive

Genre: Young Adult, Contemporary, LGBTQIA, Romance

Synopsis: Amanda Hardy is the new girl in school in Lambertville, Tennessee. Like any other girl, all she wants is to make friends and fit in. But Amanda is keeping a secret. There's a reason why she transferred schools for her senior year, and why she's determined not to get too close to anyone.

And then she meets Grant Everett. Grant is unlike anyone she's ever met—open, honest, kind—and Amanda can't help but start to let him into her life. As they spend more time together, she finds herself yearning to share with Grant everything about herself…including her past. But she's terrified that once she tells Grant the truth, he won't be able to see past it.
Because the secret that Amanda's been keeping? It's that she used to be Andrew.
Spoiler Free Review:
I'd like to start by applauding the amount of representation this book has. The author, Meredith Russo is transgender and so is the beautiful model on the cover. I'm sure it took courage to write and publish a book that the author can relate to. If I Was Your Girl was a thought provoking, reflective, eye opening story. Yes, transgender people exist. It is not a myth. This is real and people should come to accept and respect them because in the end, we are all still human. 
Starting off with the writing, it was very simplistic. There weren't any metaphorical phrases or flowery poetry, it was simple and genuine. Now I do love my lyrical writing, but the simplicity did fit well with the story. Being inside of Amanda's head was an interesting experience. I really enjoyed the flashbacks to the previous years, especially the ones when Amanda was Andrew. There were was a particular flashback where she was in the third grade and a boy she liked said that journals were for boys and diaries for girls. The funny thing is I used to think the same thing. I never understood the rule but it was just followed. I loved that there was sexism shown that  a male can face. It showed that people of any gender face sexism as well, not just females.
As for the actual storyline and plot, it felt a bit predictable. There were a few parts that were unrealistic. Amanda was a pretty generic character and I do wish she had more of a personality. The same for Grant, but I did like how he didn't have a perfect life. The romance felt pretty insta lovey and the relationship developed too fast, but I mean they are highschoolers, so I guess it is as expected. But, I did love the relationship Amanda had with her father. They were distant with each other at first, but it slowly bloomed into a sweet father daughter relationship. Being a daddy's girl, it was one of my favorite parts about the book. 
However, there were aspects that felt like a generic high school story. Highschool parties, drinking, drugs. I know for a fact that not every high schooler fraternizes in those activities. I'm sure the author knows this, but I was hoping for some originality since many YA contemporaries include the typical high school activities. I also felt like the ending wrapped up a little too neatly and perfectly. But it did leave things hopefully sweet.
However, despite the negativity I just mentioned, it didn't take out the fact that I did enjoy this book. The point of the book was to inspire, not just people who are transgender, but everyone. I definitely understand why a few things were a little unrealistic because it mean to give hope and inspire. Thank you to the author for having the courage to put out an important story for everyone to read. I would highly recommend this story to everyone! 🙂