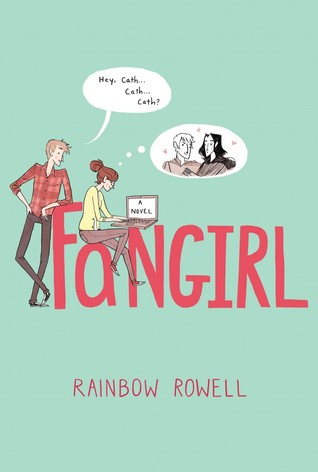 Published: September 10th 2013 by St. Martin's Press

Source: Local Library

Genre: Contemporary, New Adult, Coming of Age

Synopsis: A coming-of-age tale of fan fiction, family and first love. 
Cath is a Simon Snow fan.
Okay, the whole world is a Simon Snow fan…
But for Cath, being a fan is her life—and she's really good at it. She and her twin sister, Wren, ensconced themselves in the Simon Snow series when they were just kids; it's what got them through their mother leaving.
Reading. Rereading. Hanging out in Simon Snow forums, writing Simon Snow fan fiction, dressing up like the characters for every movie premiere.
Cath's sister has mostly grown away from fandom, but Cath can't let go. She doesn't want to.
Now that they're going to college, Wren has told Cath she doesn't want to be roommates. Cath is on her own, completely outside of her comfort zone. She's got a surly roommate with a charming, always-around boyfriend, a fiction-writing professor who thinks fan fiction is the end of the civilized world, a handsome classmate who only wants to talk about words… And she can't stop worrying about her dad, who's loving and fragile and has never really been alone.
For Cath, the question is: Can she do this?
Can she make it without Wren holding her hand? Is she ready to start living her own life? Writing her own stories?
And does she even want to move on if it means leaving Simon Snow behind?
Spoiler Free Review:
So I am not a freshman in college, or even in college for that matter. Nevertheless, I found Fangirl to be a surprisingly relatable, and endearing read. It did not disappoint as my first Rainbow Rowell book. 
To start with, the story was written in third person, but I could easily connect with all of the characters and the storyline. I loved how realistic the story was. Nothing was too exaggerated or sappy. Additionally, I related to the many fangirl comments. I, myself am an avid reader of fanfiction and Cath's fangirling was extremely relatable. Fangirl also deals with the topic of getting out of your comfort zone and meeting new people. I definitely have a hard time with both of these topics and so did Cath. Additionally, her paranoia reminded me of myself, for example when she ran back to her dorm in the night with her phone dialed on 911 and her finger on call. I would probably do the same exact thing. Despite our age differences, I could really relate to Cath and some of her experiences. 
I loved the family dynamic as well. Cath got along with her Dad so well and he was such a supportive character. Although I didn't agree with a lot Cath's twin sister's actions (drinking), their relationship was so sweet and genuine. Their fangirling reminded me of my sister and I. 🙂 As for Cath's roommate, Reagan, at first I didn't know what to think of her. But in her own way, she was helpful and supportive and her snarky, sarcastic comments are to die for. 
"Reagan was sitting up at Cath's desk when Cath woke up. 
"Are you awake?"                                                                                                                        
"Have you been watching me sleep?"                                                                                        
"Yes, Bella. Are you awake?"                                                                                                                      
"No." 
Levi was probably my favorite part of the book. He was so optimistic, friendly, and supportive. He's the type of guy that will help an elder across the street when no one else will. Levi has made his way to my favorite characters list. I think we all need a Levi in our lives. I loved Levi's character and he truly outshined everyone in this novel.
The Simon and Baz parts weren't as boring as I expected. Some did drag a bit and I did find myself skipping over them. I did love how it was a parody of Harry Potter even though there was a mention of Harry Potter in the novel itself. I didn't have too much of a problem with the Simon Snow parts and found them to be entertaining. However, I did have a minor issue with the diversity. I could have done with a little more diversity. It felt like everyone was caucasian and although Cath's campus's race mostly consists of caucasians, but I think more diversity would have been great. In addition, I really didn't like the ending. Like many people have warned, most Rainbow Rowell books have you wanting more and that's exactly the feeling I got. Nonetheless, the ending was a happy and very sweet one. 
As my first Rainbow Rowell book, I'm very glad I chose this one. Fangirl has made its way to my favorite book list and I'll be sure to reread it in the future. Probably when I'm freshman in college myself. I would highly recommend Fangirl if you haven't already read it for yourself. It is truly a special read, especially to every fangirl/fanboy. 
Rating: 4.5/5