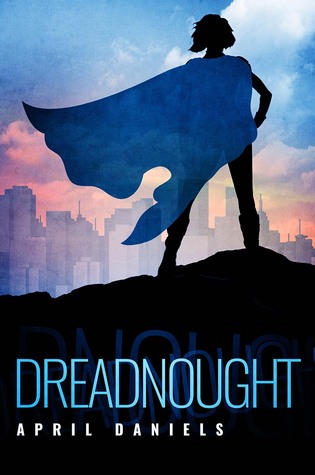 Published: January 24th 2017 by Diversion Publishing

Source: E-ARC from Netgalley

Format: Ebook

Page Count: 280

Genre: Young Adult, Sci-fi, Fantasy, LGBTQ+

Synopsis: Danny Tozer has a problem: she just inherited the powers of the world's greatest superhero. Until Dreadnought fell out of the sky and died right in front of her, she was trying to keep people from finding out she's transgender. But then her second-hand superpowers transformed her body into what she's always thought it should be. Now there's no hiding that she's a girl. 

It should be the happiest time of her life, but between her father's dangerous obsession with curing her girlhood, her best friend suddenly acting like he's entitled to date her, and the classmate who is secretly a masked vigilante, Danny's first weeks living in a body that fits her are more difficult and complicated than she could have imagined. 
She doesn't have much time to adjust. Dreadnought's murderer, a cyborg named Utopia, still haunts the streets of New Port City. If Danny can't sort through the confusion of coming out, master her powers, and stop Utopia in time, humanity faces extinction.
I AM a cisgender person, so please let me know if I ever mention anything in this review that is transphobic. My intention is never to offend anyone. Also, thank you to Diversion Publishing for sending an e-ARC to me. 
Spoiler Free Review:
I've been looking to read more books with transgender protagonists since the last one I read was one I really didn't like. I'm not entirely sure if this story is own voices, but I still enjoyed this book for the most part. It definitely has the potential to be a great book series.

The world in this book was very reminiscent of Junior Hero Blues By J.K. Pendragon, where superheroes do exist and are normalized. The world building was pretty lackluster and the author could have expanded a little more on it. In addition, when the superhero organization, Legion was explained it really did feel a lot like info dumping. Which led to the pacing to be really strange. Some parts were agonizingly slow while others were fast paced. It felt inconsistent and choppy and it took me a while to get through the book, despite its short length. 

Despite my issues with the pacing, I really liked the transgender representation. Remember, I AM cisgendered and someone who is transgender may find this book to have bad representation, but as far as I can tell, I think it was good representation for the most part.  
Danny starts off as very insecure and isn't able to stand up for herself. As the story progresses, she begins to grow into herself and be confident in the fact that she is a transgender girl and isn't afraid to say it. However, I did have a little bit of an issue with the amount of transphobic comments her former family and friends made. Katherine from Fabled Haven also discussed this in her review. I think there should have been more positivity from at least one family member (especially an adult), someone who accepted for her who she is. It really doesn't send a positive message to transgender teens who maybe haven't come out to their friends and family yet. Highlight for spoiler: Also, I really wanted Danny to get justice for how emotionally abusive her father was to her. I'm hoping this is explored in the next book.

Danny does end up befriending Sarah, who is Latina. Danny's also lesbian and there are hints of more to Sarah and Danny's relationship. But in this installment, I really enjoyed their friendship and how genuinely supportive she was. I was really glad to see someone actually accept Danny for who she is. 

Overall, I think this book has the potential to be a great, inclusive series. There were many high points to the story and I'm hoping some of the issues I had with the book will be resolved in the next book.
Rating: 3.25/5