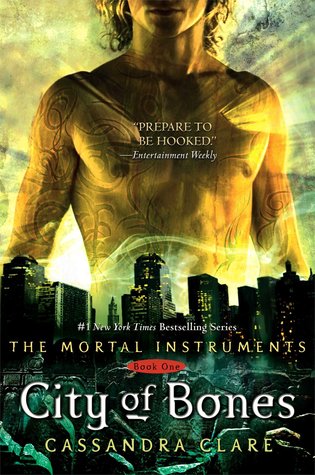 Published: March 27th 2007 by Margaret K. McElderry Books

Series: The Mortal Instruments #1

Source: Local Library

Genre: Urban Fantasy, Paranormal, Supernatural

Synopsis: When fifteen-year-old Clary Fray heads out to the Pandemonium Club in New York City, she hardly expects to witness a murder― much less a murder committed by three teenagers covered with strange tattoos and brandishing bizarre weapons. Then the body disappears into thin air. It's hard to call the police when the murderers are invisible to everyone else and when there is nothing―not even a smear of blood―to show that a boy has died. Or was he a boy?

This is Clary's first meeting with the Shadowhunters, warriors dedicated to ridding the earth of demons. It's also her first encounter with Jace, a Shadowhunter who looks a little like an angel and acts a lot like a jerk. Within twenty-four hours Clary is pulled into Jace's world with a vengeance, when her mother disappears and Clary herself is attacked by a demon. But why would demons be interested in ordinary mundanes like Clary and her mother? And how did Clary suddenly get the Sight? The Shadowhunters would like to know… 
Spoiler Free Review:
So I actually never thought I would ever read this series, let alone the first book. Paranormal is not the genre I usually would reach for and there seemed to be far too much hype. Let's not forget the hideous love triangle. Not to mention frustrating main characters. However, since the release of Lady Midnight and the premiere of the Shadowhunters T.V. show I decided, why not? Let's see what this series is all about.
To start with, the writing style. Overall, I didn't have a issue with Cassandra Clare's writing, it wasn't too flowery or dry and it was just alright. I did have an issue with the distinct perspectives. It's told in third person omniscient, but there really aren't any point of views we read about, besides Clary and a bit of Jace, two characters I don't particularly like. 
On the contrary, Cassandra Clare definitely created a pretty cool world. I could easily tell how much effort and thought she put into it and I can see why so many reader/fans want more from the Shadowhunter world. I usually am not a fan of paranormal creatures, especially vampires and werewolves (hence my dislike for Twilight). But I honestly didn't seem to have a problem with the paranormal aspects and I actually enjoyed them.
As far as the actual story line goes, it's rather cliche and predictable. The book was published a while ago, at a time where maybe a lot of the tropes were not as overused as they are now. The villain's motives were as expected. There was also a very well known line that I hate,"Clary released a breath she didn't know was holding." The pacing did differ at certain points. There were parts that I read very quickly and then there were many parts that dragged so much to the point where I considered DNF'ing it. I did power through and the ending did speed up. 
Clary Fray is the epitome of a quintessential Plain Jane. The red haired, white female discovers a secret and her destiny, meets a boy and not just any boy, a handsome boy who helps her, believes she is ugly and short, but is unconventionally pretty. There are many books where the main character is one like Clary and to be frank, I'm tired of reading about characters like her. Personally, I found Clary's point of view to be very immature. She was extremely naive and irritating, most of the time. There would be a certain situation and Clary would just change the subject and she would be jealous or wistful over the most stupidest things. For example, she was jealous of Jace because he could raise his eyebrow. Really? Was that even necessary? Either way, I didn't hate her character and appreciated her snark and sass, when it was needed.
Jace was your typical, cute (not to me), brave, jerky, assholey love interest. Honestly, I don't really see what so many see in Jace. Sure his sarcasm can be funny, but nothing else stood out to me. I didn't really like any of the other characters, especially the girl hate and jealousy between Izzy and Clary. Alec was the honor, following the rules kind of dude. I didn't hate them in any way and I think they will improve in the future books.  My favorite character would have to be, you guessed it, Magnus Bane. He's the type of character you immediately know you're going to like. As for Simon, I felt like he was tossed aside most of the time and he could have played a more prominent role.
Overall, I found there to be a lot of problems in City of Bones, however, most of them are just ones that I personally had issues with. I definitely don't hate this book and I think the first book showed its potential for a greats series. Will I continue on with the series? Possibly. A lot of people have said that the series progresses. As my first Cassandra Clare book, I wouldn't say I fully enjoyed it, but there were aspects that I did somewhat enjoy. 
Rating: 2.75/5