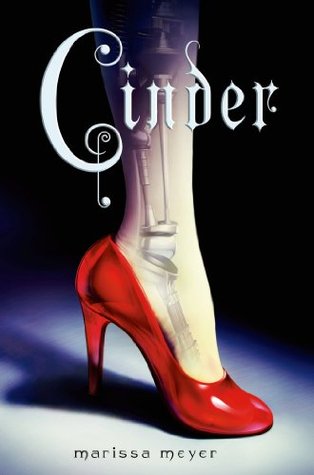 Published: January 3rd 2012 by Feiwel & Friends

Series: The Lunar Chronicles Quartet #1

Source: Borrowed from a Teacher

Genre: Sci-fi>Fairy Tales>Fairy Tale Retellings

Synopsis: Humans and androids crowd the raucous streets of New Beijing. A deadly plague ravages the population. From space, a ruthless lunar people watch, waiting to make their move. No one knows that Earth's fate hinges on one girl.

Cinder, a gifted mechanic, is a cyborg. She's a second-class citizen with a mysterious past, reviled by her stepmother and blamed for her stepsister's illness. But when her life becomes intertwined with the handsome Prince Kai's, she suddenly finds herself at the center of an intergalactic struggle, and a forbidden attraction. Caught between duty and freedom, loyalty and betrayal, she must uncover secrets about her past in order to protect her world's future. 

Spoiler Free Review:
I've heard such great things about The Lunar Chronicles lately. This series is getting a lot of hype in general, especially the recent release of the last book, Winter and the novella bind up Stars Above. I'm actually really happy that I finally picked up Cinder. It definitely surprised me in many ways and I flew through it. Cinder was an overall solid and enjoyable read and I'm glad I joined the fandom train.
As I've mentioned, I flew through this book. I started at page 1 and before I knew it, I was already on page 250. Although the pacing wasn't very fast, it went by quickly. The whole story really leads up to one big climax. The writing style is very easy to read and understandable. I especially loved some of the conversations, they added a lot to the overall enjoyment. The writing style is not wonderful by any means, but Marissa Meyer is a great storyteller. 
The world takes place in a futuristic Beijing called, New Beijing. I really loved the setting and the atmosphere. It took place in China, so there were people of a different ethnicity introduced. I also found it cool that Cinder was a mechanic, but repaired technology. In addition, the plot and story line was also very enjoyable. I really appreciated Marissa Meyer introducing the two main characters right from the start. I usually am not a fan of when authors take up half of the book before the two characters finally meet. It can be frustrating and there's less room for development. On the contrary, I will say that the story line is quite frankly predictable. There were a few twists here and there, but the characters were what really shone.
So for characters, I'll start with Cinder, our main protagonist. I really loved Cinder's character, She was intelligent, sassy, sarcastic, and independent. One of my favorite aspects of Cinder is her independence. She tries figure things out on her own and really solved things by herself, unlike Cinderella from the original fairytale, who waited around for a shoe. I loved that she was a mechanic and actually had a passion for something. I also loved the side characters, such as Iko and Peony. I was glad that there was only one horrible stepsister and the younger stepsister, Peony was sweet and loved Cinder for who she was. Even if Prince Kai was your generic princey poo, I couldn't help but love at how charming and adorable he was. Of course there was Queen Levana who was absolutely horrible and hideous. I wasn't too impressed with her as a villain, she was quite cliche, but I am interested in her backstory. 
So even though this is a retelling of the famous fairytale Cinderella that everyone knows about, (unless you're Ron Weasley 😉 Cinder  is very loosely based off of the original fairy tale. I personally never liked the fairy tale so I appreciated that. Despite my dislike for the fairy tale, I noticed a few of the references to Cinderella and I must say, Marissa Meyer did an excellent job hinting at the Cinderella elements while keeping her story original. 
Overall, I would recommend Cinder, if you are hesitant to pick it up, I think you should definitely try it out for yourself to see if it is to your liking. I will be checking out the companion, Scarlet, so watch out for a review of that as well. 🙂

Rating: 4.25/5