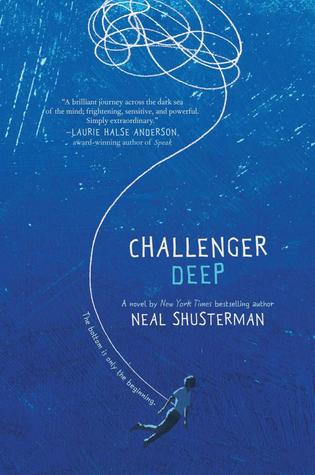 Published: April 21st 2015 by HarperCollins

Source: Local Library

Genre: Young Adult, Contemporary, Mental Illness

Synopsis: Caden Bosch is on a ship that's headed for the deepest point on Earth: Challenger Deep, the southern part of the Marianas Trench.

Caden Bosch is a brilliant high school student whose friends are starting to notice his odd behavior.
Caden Bosch is designated the ship's artist in residence, to document the journey with images.
Caden Bosch pretends to join the school track team but spends his days walking for miles, absorbed by the thoughts in his head.
Caden Bosch is split between his allegiance to the captain and the allure of mutiny.
Caden Bosch is torn.
Spoiler Free Review:
I've read Neal Shusterman's Unwind Dystology, and absolutely loved the series. His newest release did not disappoint at all. I've read quite a few books that dealt with mental illness, but nothing like this book. Mr. Shusterman's own son had the mental illness that was in the book, so while reading the book, it was like being in the actual mind of the main character. It was so incredibly written and the mental illness was not in any way, romanticized or sugarcoated. It was so real and portrayed the absolute truth of the outcomes of what a mental illness does to a person and the people around you.
I really loved the writing style as well. It was different than Unwind, but in a good way. As your read further, it is absolutely fascinating to read from Caden's perspective. Neal Shusterman's writing is so wonderfully done. He has this way of writing emotions that has you thinking and reflecting about each sentence on the page. Additionally, I really felt a connection to Caden. I could relate to him on a lot of his experiences, specifically his social anxiety. I have a hard time trusting people and tend to be paranoid over the smallest of things. I also came to love the illustrations in the book as well. At first, they really didn't interest me, and I would skim the pictures or skip them. However, I think they really express how Caden is feeling and contribute a lot to the story. 
I did have an issue with the beginning of the book. It took a while for me to get into and I was very confused. I didn't seem to understand what "Challenger Deep" actually was and how it related to the story. It took a while to understand that there were two stories, both fascinating and heart wrenching. Despite the initial confusion, I think Shusterman did a brilliant job merging the two stories together. I found both of them to be incredibly fascinating and it was fun to figure who was who in the story. 
I honestly think that it's best to go not knowing too much about the book in the first place. It's best to figure what Caden has and how he dealt with it. There were some who believed that pills were the solution, while others who encouraged Caden through his experience. Carlyle was a great supporter throughout the book and understood where Caden was coming from because he had been there himself. I really thought that Callie, (a character Caden befriended) really interpreted how every teen in a psychiatric hospital feels. "At home they expect you to be fixed, they say they understand, but only the people who really understand are the ones who've been to That Place, too. It's like man telling woman he knows what it feels like to give birth."
Overall, this was phenomenal story and experience. This book addresses serious topics, but is written in a unique way. I've never read anything like this before, and I believe that this was a brilliant interpretation of a mental illness. I highly recommend reading this book, and I think you will defintely get a lot out of it. 

Rating: 4.75/5