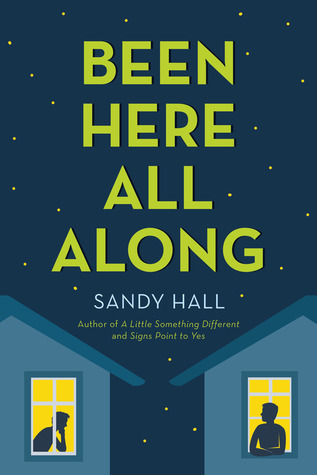 Publication: August 30th 2016 by Swoon Reads

Source: E-ARC via Netgalley

Genre: Young Adult, Contemporary, LGBTQ+, Romance

Synopsis: Gideon always has a plan. His plans include running for class president, becoming head of the yearbook committee, and having his choice of colleges. They do NOT include falling head over heels for his best friend and next door neighbor, Kyle. It's a distraction. It's pointless, as Kyle is already dating the gorgeous and popular head cheerleader, Ruby. And Gideon doesn't know what to do.

Kyle finally feels like he has a handle on life. He has a wonderful girlfriend, a best friend willing to debate the finer points of Lord of the Rings, and social acceptance as captain of the basketball team. Then, both Ruby and Gideon start acting really weird, just as his spot on the team is threatened, and Kyle can't quite figure out what he did wrong… 
Spoiler Free Review:
I've read Sandy Hall's A Little Something Different and I found it to be an entertaining and adorable read, at the time I read it. Young adult contemporary romance is a genre that I never ever reach for and it was evident in my rating for this book. I was glad that it was an LGBTQ story that takes place in high school, whoever this book is not for me. I could not stand the writing style or connect with any of the characters and found the story to be quite predictable. 

The writing style was very juvenile and annoyed me like no other. It read from a teenager's perspective and I think that was part of the problem. The story is told in four perspectives and there would be times where a character would use like excessively in the middle of a sentence. In a dialogue format, it makes a little more sense, since the characters are teenagers. In addition, there weren't many descriptions either. I honestly have no clue how Gideon looks like as well as a few other characters. It could also be very cheesy and had its cringe worthy lines as well. 

As for the story line, it was full of high school drama and gossip. Personally, I am not a fan of high school, specifically stories that consist of parties where stupid teens get drunk and high. I will say it wasn't as bad as some other books I've read. There were a few nerdy references such as Lord of the Rings and Parks and Recreation was also mentioned. Nonetheless, the story was pretty predictable. A lot of the drama could have been easily solved, though I was glad there wasn't much miscommunication between the two characters. 

The two main characters were cute but forgettable. I liked that both were completely adorable nerds. Kyle was supposed to be considered the popular kid, but he's actually adorably awkward. Gideon is the rich and intelligent boy who likes to have everything in order. I'm not going to say anything about their relationship, but let's just say a lot of sap will ensue. Ruby was the girlfriend of Kyle and a pretty prominent character. I wouldn't say I liked her, she made a lot of stupid and selfish decisions. Though I am glad we got to see more of her family life and the more personal problems she was dealing with. 

I really did appreciate the LGBTQ element added in. The story has a nice message to it and showed how so many people are not homophobic and support people with different sexualities. There's also another important topic that's brought up and I really appreciated the message behind that as well. It's a topic that's hardly in any young adult novels and it was nice to have more discussions on it. 

Overall, there were a few wonderful topics tackled in this novel, but it was not a book for me. It was a light and fluffy contemporary and I read it fairly quickly. However, I couldn't connect with the writing style and the characters were ultimately forgettable. I would highly recommend this book if you're looking for something light and cute or some more LGBTQ reads. 
Rating: 2.25/5