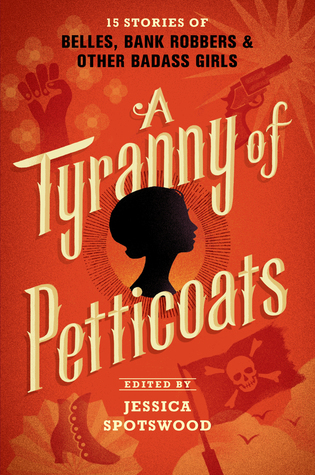 Published: March 8th 2016 by Candlewick Press

Series: A Tyranny of Petticoats #1

Source: Local Library

Genre: Young Adult, Historical Fiction, Anthologies

Synopsis: From an impressive sisterhood of YA writers comes an edge-of-your-seat anthology of historical fiction and fantasy featuring a diverse array of daring heroines.

Criss-cross America — on dogsleds and ships, stagecoaches and trains — from pirate ships off the coast of the Carolinas to the peace, love, and protests of 1960s Chicago. Join fifteen of today's most talented writers of young adult literature on a thrill ride through history with American girls charting their own course. They are monsters and mediums, bodyguards and barkeeps, screenwriters and schoolteachers, heiresses and hobos. They're making their own way in often-hostile lands, using every weapon in their arsenals, facing down murderers and marriage proposals. And they all have a story to tell.
With stories by:
J. Anderson Coats
Andrea Cremer
Y. S. Lee
Katherine Longshore
Marie Lu
Kekla Magoon
Marissa Meyer
Saundra Mitchell
Beth Revis
Caroline Tung Richmond
Lindsay Smith
Jessica Spotswood
Robin Talley
Leslye Walton
Elizabeth Wein 
Spoiler Free Review: 
A Tyranny of Petticoats is an empowering anthology focusing on women in history that most seem to forget about. Women of color and different sexualities, women forced into marriage. Each and every one of these short stories highlighted a significant part of history. I came to appreciate every single story for highlighting different parts of history, some forgotten and others unknown. 

Mother Carey's Table By J. Anderson Coats: 
This story follows a pirate ship and an African American girl forced to disguise herself as a boy. This focuses on the topic of females in disguise on a pirate ship. It was a pretty strange start to the book, but entertaining and had a great message behind it. 
Rating: 3/5

The Journey By Marie Lu:
Marie Lu's story is actually inspired off of Jean Craighead George's famous Julie of the Wolves. Lu researched Inuit folklore and brought a really interesting story. 
Rating: 3.5/5

Madeleine's Choice By Jessica Spotswood: 
This story follows a biracial teenager living in New Orleans, Louisiana in 1826. Maddie is trying to choose between marrying a white man or her childhood friend who is black. The story itself is quite predictable, but it's mostly the background behind it that made it interesting. In New Orleans, there was a term, gens de couleur libres meaning free people of color. I do think there could have been more to the story and it lacked a little bit of depth, but I enjoyed it. 
Rating: 3/5

El Destinos By Leslye Walton: 
I've heard nothing but phenomenal praise about Walton's debut, The Strange and Beautiful Sorrows of Ava Lavender. As many have said, her writing is truly beautiful and lyrical. However the story itself was very confusing. I was again happy to see that the main character was Mexican American. But I couldn't seem to grasp the concept until I read the background information. None the less, the topic was interesting and I am looking forward to reading more of Leslye Walton. 
Rating: 3/5

High Stakes By Andrea Cremer: 
Now this story has more of a paranormal twist. The whole concept was very interesting and still held a historical element to it. It touched on slavery and The Civil War. I will say the ending took a very creepy turn and it would be fitting to call this a horror story. 
Rating: 3.5/5

The Red Raven Ball By Caroline Tung Richmond:
This story is the typical rich white people balls in the mid 1800s. The Civil War is going on and there's The Confederates and The Union and some spying. It was entertaining, to say the least though not my favorite.
Rating: 2.5/5

Pearls By Beth Revis: 
This story touched on a few important issues that are still prominent today. The first being abusive relationships and the second being equal pay for women. It's very sad to say that the issue of equal pay for women still has not been resolved. The story follows a teacher who receives half the salary than a male teacher. It was a wonderful story in the collection.
Rating: 4/5

Gold in the Roots of the Grass By Marissa Meyer:
I was interested to see how Marissa Meyer would take on historical fiction, since she has only written fantasy and sci-fi so far. She brought up the topic of the Gold Rush and the main character was Chinese American. It had a paranormal aspect to it as well which was pretty confusing. Nonetheless, it was enjoyable and different than any of the other stories. 
Rating: 3.25/5

The Legendary Garrett Girls By Y.S. Lee
This story follows two sisters who run a bar together. It touches on Klondike gold rush which I knew nothing about so it was an interesting learning experience. I really enjoyed the dynamic between the two sisters as well. However, the ending was pretty abrupt.
Rating: 3.75/5

The Color of the Sky By Elizabeth Wein:
This story was one of my favorites. It brings up sexism and racism and was actually based off of Elizabeth Wein's Black Dove,White Raven which was one of my favorites of last year. Bessie Coleman was the first black woman to receive a pilot's license and the first American to receive an international pilot's license. It's sad that history teachers don't ever bring up an inspiring woman in American history, especially someone that inspired so many African American girls. The story follows an African American girl named Antonia whose role model is Bessie Coleman. This was one of my favorite stories and it was really inspiring.
Rating: 4.5/5

Bonnie & Clyde By Saundra Mitchell:
As I was reading I was wondering when the female bankrobber would come up. I love the trope of a female dressed up as a male, it's always interesting to see the journey, especially in a historical fiction setting. People treat you very different, especially back then and it was definitely the case. It was an interesting story and I really liked it.
Rating: 3.75/5
Hard Times By Katherine Longshore:
The Great Depression was a hard time for all Americans and in this story the topic of teenagers on the run via train jumping. Apparently, during the Great Depression jumped on railroad trains to get to certain places. Reminded of Divergent, when the Dauntless had to jump onto trains. I really enjoyed learning about the topic. The story followed the experience of a teenage girl, a train jumper herself. It was intriguing following her experience, since it's quite different for a female. 
Rating: 4/5

City of Angels By Lindsay Smith:
So when World War II began and the men all went to war, the women took charge and began taking over their work. Rosie the Riveter was an iconic image back then, encouraging women to contribute during the war. This story follows two women working in a factory and their friendship that blossoms into something more. It has an LGBT element which I really appreciated, especially in historical fiction. The main character really did struggle with her sexuality and in the end, she came to accept herself. 
Rating: 4/5

Pulse of the Panthers By Kekla Magoon:
This was another one of my favorite stories. It follows a young African American girl living on a farm who's not exposed to the racism and discrimination that many blacks had faced at the time. A group called The Panthers come to her home and she learns more about the civil rights movement and The Panthers fight for equality. The author actually has more works surrounding The Panthers and I'm very excited to learn more about them. 
Rating: 4.75/5

The Whole World is Watching By Robin Talley:
This story was the perfect way to end the book. It takes place in Chicago and follows a freshman in college who attends Barnard College in Manhattan. I actually used to live in New York and my dream college was Barnard College. The main character is black and is at a huge protest at the Democratic National Convention. It brings up feminism, sexuality, and the many riots that took place in 1968. This was by far my favorite story in the collection.
Rating: 5/5
Overall Rating: 4/5