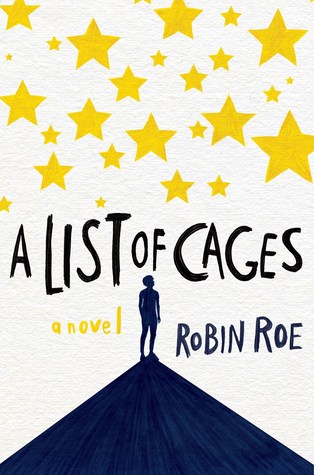 Published: January 10th 2017 by Disney-Hyperion

Source: Local Library

Format: Hardcover

Page Count: 320

Genre: Young Adult, Contemporary, Mental Illness

Synopsis: When Adam Blake lands the best elective ever in his senior year, serving as an aide to the school psychologist, he thinks he's got it made. Sure, it means a lot of sitting around, which isn't easy for a guy with ADHD, but he can't complain, since he gets to spend the period texting all his friends. Then the doctor asks him to track down the troubled freshman who keeps dodging her, and Adam discovers that the boy is Julian—the foster brother he hasn't seen in five years.
Adam is ecstatic to be reunited. At first, Julian seems like the boy he once knew. He's still kindhearted. He still writes stories and loves picture books meant for little kids. But as they spend more time together, Adam realizes that Julian is keeping secrets, like where he hides during the middle of the day, and what's really going on inside his house. Adam is determined to help him, but his involvement could cost both boys their lives… 

Spoiler Free Review: 
A List of Cages was the exact book I was looking for. Books that highlight friendship are extremely rare in YA, so naturally I was really excited about this release. It definitely did not disappoint and it could quite possibly be one of the most heart wrenching stories I've read. 
In particular, I enjoyed this book because it highlighted the friendship and brotherly relationship between Adam and Julian. In a lot of books that take place in high school, the romance and drama are the main focus of the story, but that was not the case for this book. In addition, Adam had ADHD but was still able to be successful in school. I loved that there was a positive representation of mental illness. One thing that I was uncertain about was the way Adam described how by taking his ADHD meds, he could "fix" his mental illness. ADHD is not curable, so I felt that maybe should have been addressed. 
Adam is described as the popular kid in the school and he's perceived as perfect, he has a lot of friends and is good friends with the teachers. He has this very infectious and upbeat attitude, he's kind of the energizer bunny. 
"A teacher can be approaching, face stressed or sad, and body bent as if they're carrying something too heavy. Then they see Adam. They blink as if blinded, and their mouths spreads into a Christmas-morning smile." 
He was adorable and so positive and supportive. It was nice to see a different kind of teenager then the stereotypical teenage boys (they all suck). "He looks happy. Not acting nice or feeling sorry, but genuinely happy, as if he likes her as much as he likes everyone else." So many teenagers in YA lit are always troubled or going through rough times which isn't the case for majority of teenagers. It was very refreshing to see a character that was actually genuinely happy. 
Julian is basically the polar opposite of Adam. He has dyslexia and is very shy and reserved and a lot more relatable. He doesn't really fit in at school and doesn't have any friends either. His parents' death as well as his situation at home caused to be sad and closed off. Despite his situation, Julian still managed to be kind and loving. He had this child-like innocence to him and I felt like the situation he was in made him seem a lot younger than he actually was. But at the same time, he was wise beyond his years as well. He wanted people around him to be happy. Julian was a precious cinnamon roll, absolutely loved him. Also, because of Julian, I really want a younger brother. (Which is a little weird, considering we're the same age but whatever).
"Hate ricochets, but kindness does too."
This was one of my favorite quotes from this book. This story really does highlight friendship and love. As cheesy as that sounds, for it to be shown through the eyes of two boys, who come completely different situations is refreshing. This book is hard hitting, adorable and heart warming. I would highly recommend it for everyone. 
Rating: 4.5/5
*Warning: This book can be triggering for those sensitive to domestic violence.