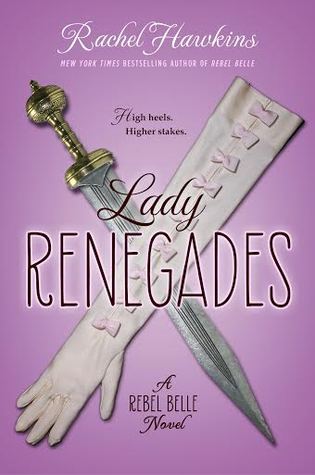 Published: April 5th 2016 by G.P. Putnam's Sons Books for Young Readers'

Series: Rebel Belle Trilogy #3

Source: Ebook

Genre: Paranormal, Contemporary, Mythology

Synopsis: Just as Harper Price starts coming to terms with her role as David Stark's battle-ready Paladin, protector, and girlfriend—her world goes crazy all over again.

Overwhelmed by his Oracle powers, David flees Pine Grove and starts turning teenage girls into Paladins—and these young ladies seem to think that Harper is the enemy David needs protecting from.  Ordinarily, Harper would be able to fight off any Paladin who comes her way, but her powers have been dwindling since David left town…which means her life is on the line yet again.
Spoiler Free DNF Review:
I usually don't write very negative reviews. Most of the books I read, I really like, but this happened to be one that I didn't enjoy at all to the point of me not finishing it. I wasn't planning on writing this review, mostly because I didn't even finish it and put it down 50% of the way through. I do not in any way hate this book, and there were aspects of this trilogy I liked, but it pretty much went downhill. This is will be a mostly negative review, so if you are offended by anything I say, I'm sorry. If you like this series, that is your opinion, personally I don't think it's for me. We're all still book nerds and friends at the end of the day.  🙂
Starting off on a positive note, Harper did not differ much than in the previous books. There is also a perspective on David, who completely changed. In the previous books, he was a nerdy dork and adorable. In this book, he was brooding half the time, knowing that he needed help, but instead was sulking and hiding away. 
The pacing was very slow and off and stretched out to the point of irritation. The main goal was to find David and stop him from creating Paladins. The majority of the story took up trying to find him. It was stretched to unnecessary lengths and by the time he was found, it was anticlimactic. At this point, I couldn't read on, so I stopped reading. However, I did read the ending, which made me even angrier. It was meant to be a hopeful ending leaving things open to the reader's imagination. I did not it see it that way. There was a trope used that I particularly despise. It was merely as a cheap plot device used to start a character's arc anew on a clean plate. Highlight for spoiler: I'm sure if you've read the book, you would know the trope was amnesia. David had amnesia and forgot everything about being the Oracle. Harper, thought it would be best to not tell him at the moment. Probably the stupidest decision ever. He needs to be aware of a life that he had and not be kept in the dark. The intention was to keep the reader hopeful, however, I was left disappointed. 
That concludes my rant-y DNF review. I'm truly sorry if I came across as a little to harsh. I am probably the most disappointed.  There were definitely aspects of this book I liked, but overall disappointment. I really did want to like this series, but like I said, not for me.