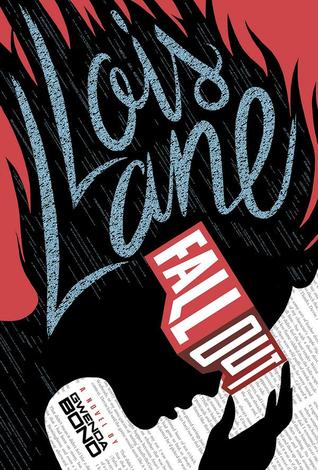 Published: May 1st 2015 by Switch Press
Series: Lois Lane #1
Genre: Young Adult, Contemporary, Sci-fi
Source: Local Library
Synopsis: Lois Lane is starting a new life in Metropolis. An Army brat, Lois has lived all over—and seen all kinds of things. (Some of them defy explanation, like the near-disaster she witnessed in Kansas in the middle of one night.) But now her family is putting down roots in the big city, and Lois is determined to fit in. Stay quiet. Fly straight. As soon as she steps into her new high school, though, she can see it won't be that easy. A group known as the Warheads is making life miserable for another girl at school. They're messing with her mind, somehow, via the high-tech immersive video game they all play. Not cool. Armed with her wit and her new snazzy job as a reporter, Lois has her sights set on solving this mystery. But sometimes it's all a bit much. Thank goodness for her maybe-more-than-a friend, a guy she knows only by his screenname, SmallvilleGuy.
Spoiler Free Review:
Everyone's heard of the amazing brilliant Superman. Who in reality is Clark Kent, farmer boy in Smallville, Kansas. Then there's Lois Lane, Clark Kent or Superman's friend, trusted partner in crime and later his lover. Lois Lane, reporter of the Daily Planet, spunky, sarcastic, and headstrong. A retelling from Lois Lane's point of view got me very excited since Lois Lane is such a great character in both the comics and the television show, Smallville. I don't read a lot of  contemporary but this one stood out to me. It took place in high school which made it more relate-able and realistic.
Lois Lane was such a unique character and different from any other I read before about a high schooler. She was witty, clever and sarcastic. What I really like about her character was that she stood up for other people. Throughout the story, it is mentioned that she was kicked out of many schools. Not because she was a bad student but because she had caused trouble by trying to help other students. She couldn't stand bullies  and I found her to be a bit like me. She's a selfless, in her own way, doing whatever she can to stop the Warheads, the bullies in the story.
I enjoyed the writing style. It was very easy and a fast paced story despite being a contemporary. Lois has to deal with family issues particularly her relationship with her father. In addition, there's the Warheads and dealing with the school principal. I like the friends that she made. Maddy, music book lover, Devin, the computer geek, and James, rich ex- mayor's son who's much more complicated than you think. Smallville Guy (We all know its you Clark) and Lois had an interesting dynamic. Despite not ever talking in person, they seem to know each other very well. I was anticipating when he would be shown in the flesh. I was disappointed when Smallville Guy wasn't shown.
This book also addressed bullying but in a different way. It showed how people can be affected by bullying and how it can hurt them. The bullying was very real and really shows what many bully victims go though.  The sci-fi twist in the midst of the contemporary was what made it such a great retelling. Although, the story focused on Lois Lane I liked  how it had it still had the Superman aspect to it. Lois Lane was also a highschool reporter which was I found to be awesome. Her being a reporter allowed her to expose the Warheads being bullies in an article. Although, the story was a bit predictable especially when it came down to who the villains were. It still had its own twist especially the ending.
If you're looking for a fun contemporary with a sci-fi twist and a awesome retelling of Superman with a bad-ass female heroine you'll be sure to like Lois Lane: Fallout By Gwenda Bond.
Rating: 4/5