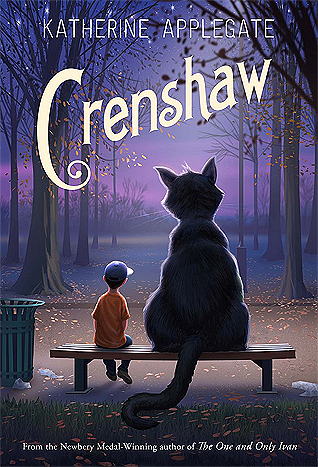 Published: September 22nd 2015 by Feiwel & Friends
Source: Local Library
Format: Hardcover
Page Count: 256
Genre: Middle Grade, Family, Magical Realism, Contemporary
Synopsis: In her first novel since winning the Newberry Medal, Katherine Applegate delivers an unforgettable and magical story about family, friendship, and resilience.
Jackson and his family have fallen on hard times. There's no more money for rent. And not much for food, either. His parents, his little sister, and their dog may have to live in their minivan. Again.
Crenshaw is a cat. He's large, he's outspoken, and he's imaginary. He has come back into Jackson's life to help him. But is an imaginary friend enough to save this family from losing everything?
Beloved author Katherine Applegate proves in unexpected ways that friends matter, whether real or imaginary.
Spoiler Free Review:
 So it's rather disappointing that I haven't read The One and Only Ivan despite the fact that I've seen it in my elementary school library multiple of times. Either way, this was a refreshing children's story. It brought back memories of my own imaginary friend, a little girl by the name of Swetha. It was equally adorable but still took on the serious topic of homelessness. I think the author handled the topic very well balancing out the lighthearted tone along with it. Not many children's books discuss such topics and I really appreciated the author for writing this book.
I really loved the main character Jackson. He was very different than most kids his age. He believed in facts and believed there was a logical explanation for everything. It was slightly irritating but I loved how he was "wise beyond his years." He knew the struggles his parents were going through and tried every bit to help out. The imaginary friend, Crenshaw was so witty and hilarious. I loved how he made his job to cheer up Jackson. He helped Jackson get through the hardest of times was there for him, even if he wasn't really real. 
Overall, this was a wonderful and meaningful story that depicts friendship, family, and confronts serious and realistic topics. I had such a fun time reading Jackson's story and look forward to more from Katherine Applegate.
Rating: 5/5