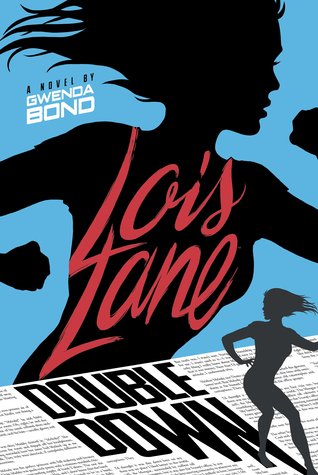 Published: May 1st 2016 by Switch Press

Series: Lois Lane Series

Source: Local Library

Genre: Young Adult, Mystery, Comics>Superheroes

Premise: Lois Lane has settled into her new school. She has friends, for maybe the first time in her life. She has a job that challenges her. And her friendship is growing with SmallvilleGuy, her online maybe-more-than-a-friend. But when her friend Maddy's twin collapses in a part of town she never should've been in, Lois finds herself embroiled in a dangerous mystery that brings her closer to the dirty underbelly of Metropolis.
Read review for Lois Lane: Fallout. 

Spoiler Free Review: 
After reading a bunch of sad historical fiction, I needed a break, so I went for some suspenseful contemporary/sci-fi. I read the first book in the Lois Lane series at the very beginning of the school year and thought it was super cool, so I was interested to see if my tastes and opinions had changed now that it's the end of the year. My thoughts have changed quite a bit, I've noticed some flaws that I didn't pay attention to before. I did really enjoy this story for the most part, despite the issues I had with it. 
The writing style is pretty reminiscent to a few series I read in elementary school, The Amazing Days of Abby Hayes and The Gilda Joyce series. It was a lot less juvenile but Lois's perspective and personality is similar to the characters I read as a kid. This book is also a lot more darker than the first one. It goes into deeper conflicts and issues. I liked the idea of the smaller problems which all connect to the bigger conflict. There were some slow parts, but there was a ton of very suspenseful scenes that had me at the edge of my seat. The plot also leaned a lot more on the sci-fi side. The whole story revolves around an experiment and this lab, it didn't bother me as much since I love sci-fi, but if you're looking for a more contemporary story, you will not find it in this book. 

One of my biggest issues was how unrealistic the situation felt at times. Lois is only 16 years old and the situations she was in was very unrealistic. Even if the series is a reimagining of Lois Lane, it would make more sense if she was older. I also thought a lot of the things that came in the way of Lois solving the mystery, such as school was solved very quickly to keep the plot moving. 

Lois Lane is an awesome character and she definitely does stay true to herself. She's clever, sassy and inquisitive. I also really loved Devin, he was the calm and cool dude. Of course, SmallvilleGuy is adorable. I loved the conversations Lois and SmallvilleGuy had. But the rest of the characters really fell flat for me. I didn't realize this in the first book, but the other characters, James and Maddy, they are really cut and dry. I felt like I've read characters like the, before and didn't feel like anything new. As for the romance, it was a little more prominent in this book, one of the things I appreciated in Lois Lane: Fallout was the lack of romance. I did not like any of the romantic elements in this book. It felt really cheesy and out of place. I was glad to see it did not play a huge role. 

The ending fell a little flat for me as well. I was hoping for a little more and the big reveal I thought would happen didn't happen. For now, there are only two books confirmed which is pretty disappointing. I'm hoping there will be a third book since I do have a lot of questions about SmallvilleGuy. Overall, I did have a lot of fun reading this book. This series is a lot of fun and if there is a sequel, I will definitely be picking it up.
Rating: 3.75/5